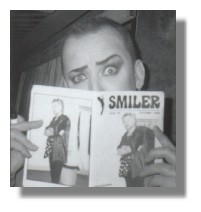 Pictured on the right is Boy George who we here at Smiler affectionately like to call Georgie Boy! Georgie Boy enjoyed massive success during the eighties with his band Culture Club. They made the UK Top Ten no fewer than eight times between 1982 and 1986 with hits like "Do You Really Want To Hurt Me" and "Karma Chameleon"! His first solo outing "Everything I Own" topped the charts in 1987. Sadly, nowadays he is more famous for playing dance records to ravers in London nightclubs than exercising his great voice.
During the eighties, Rod was quoted as saying "Boy George is the best white soul singer since me!" Georgie Boy has also expressed admiration for Rod on several occasions.
Writing in his autobiography ("Take It Like A Man", Pan, £5.99) about the time he appeared on the same bill as Rod at the Apollo Theatre in Harlem, he said "Rod Stewart sang "Dock Of The Bay" casually and soulfully, which made us all look like we had white man's disease".