ABOUT SMILER >> General information
Worldwide operating Rod Stewart fan-club SMILER, founded in 1981, is the largest of its kind. Authorative and outspoken, colourful and controversial, SMILER is the essential source for anyone with passion for Rod Stewart's music, both old and new, solo and in partnership with the likes of The Faces and Jeff Beck.

As a member you gain access to a dedicated members only section on this website which includes rare photographs, a message board, access to SMILER articles and additional news articles. In the past we were able to offer members the opportunity to purchase the very best front block concert tickets to Rod's shows around the globe!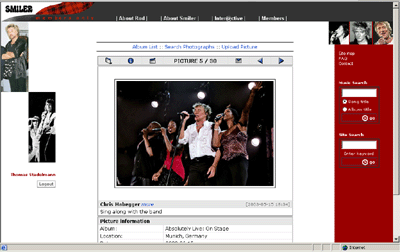 (Screenshot from the photo database)

Become a member now to make sure you don't miss anything!

SMILER publishes a high quality magazine, printed in full colour - many issues are still available and may be ordered online. Click here for more details.
SMILER magazine - Have a look at a few sample pages:

>click to enlarge