Rod Stewart - If We Fall In Love Tonight
Released:
1996
Label:
Warner, 46460
Charts:

chart peak

date certified

US:

gold
platinum 1


09.09.1997
09.09.1997

Buy this CD from Amazon.com:
Track listing:
Details: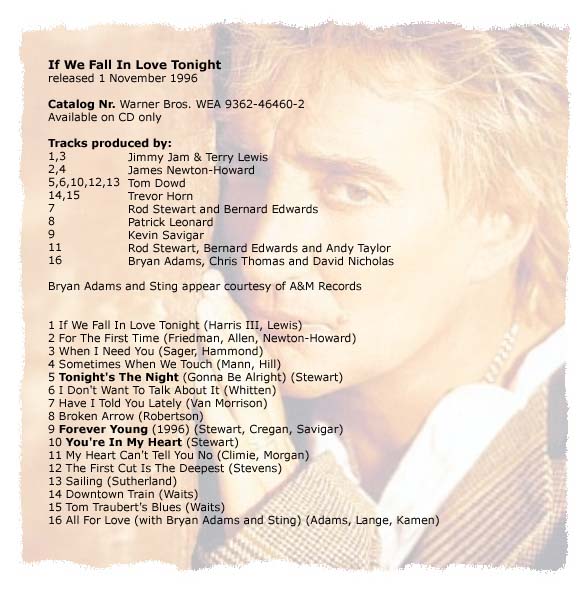 Reviews:
ROD STEWART'S number one asset is his voice, with his stage skills coming a close second. However, his (currently latent) songwriting talents should not be underestimated and his ability to cover great songs has also played a monumental role in his continuing success over four decades. From the opening chords of the Stones 'Street Fighting Man' on the first album, to recent triumphs such as Elton's classic 'Your Song', Tom Waits' brilliant 'Tom Traubert's Blues' and Dylan's lyrical masterpiece 'Sweetheart Like You', Rod has always displayed excellent taste in music. His ability to track down often obscure songs, transform them and introduce them to a wider audience, is a rare skill that should not be under-valued.
Despite the fact that Rod Stewart the songwriter is in danger of becoming extinct, in recent years he has presented us with some of his finest interpretive work. Sadly, if the cover versions on this new album are anything to go by, it appears that Rod's good taste in this field may be evaporating in the same way as his much-missed songwriting. 'If We Fall In Love Tonight', is a collection of familiar ballads mixed with four new tracks, one re-mix and a re-recording. A welcome concept, as Rod's strength as a balladeer is equal to his standing as a rock 'n' roller and many would argue that the ballad is his forte.
The album gets off to an un-spectacular start with the title track which is reminiscent of 1993's 'Love In The Right Hand' with a hint of 'Love Touch' thrown in for good measure. Produced by Jimmy Jam and Terry Lewis who do the honours for the likes of Janet Jackson and Alexandra O' Neil, this rather clumsy smoother is full of cliches and has an irritating 78rpm type hiss in the background. Why Rod should want to emulate the dire Janet Jackson (and other artists associated with Jam and Lewis) is beyond me. I hope that the songs failure as a single will discourage him from recording an entire album produced by Jam and Lewis. Far superior is the second new track 'For The First Time'. Rod sings from the heart and sounds like he means every word of the song. Other balladeers will be eating their hearts out when they hear it! Rod's vocals are breath-takingly emotional, but not at all corny or over sentimental. James Newton-Howard's production is smooth and the songs credibility isn't destroyed by too many strings. Perhaps I'm going soft in my old age, but the song actually brought tears to my eyes when I first heard it. This should have been the first single and must be the next, it has the potential to be Rod's biggest hit of all time.
The first new cover version, Leo Sayer's 'When I Need You', demonstrates an appalling lapse in taste. The song is so far beneath Rod, such bottom of the barrel banality, it is hard to believe he has risked the critical ridicule and loss of respect that is sure to follow. I can't understand why he has chosen to record this, when the likes of 'Sittin' On The Dock Of The Bay' and 'My Girl' are crying out to be given his treatment. I've nothing against Leo Sayer, he recorded several fairly pleasant pop songs in his time and also composed some above average material. 'When I Need You' (written for Sayer by Carol Bayer Segar and Albert Hammond) is neither pleasant nor above average. Frankly, it's a joke and Rod's version stinks. Rod sticks closely to the slush-filled original until a gospel choir attempts to rescue the affair by adding some soul. Unfortunately, they only succeed in making the song even more un-listenable. Rod's overdubbed wailing over the Save Me Jesus / Hallelujah type choir is the most hideous thing I've heard since Chris de Burgh's infamous live duet with Rod in Dublin a few years back! It's quite ironic that in the same week this album was released, Shirley Bassey also released an album which included a version of 'When I Need You'! Three weeks later, it got worse as Barry Manilow included the song on his new album! This factor speaks volumes about the songs complete incompatibility with Rod!
The next track, Dan Hill's 1978 hit 'Sometimes When We Touch', is only marginally better. Paraded as soul by some, it is a favourite of Butlins cabaret singers and pissed-up pub karaoke jokers who think they're George Michael. Soul it is not, over-sentimental codswallop it is. Void of any feeling, it features what must be the most nauseating lyric of all time. Appalling - you'd never catch Jagger or Springsteen wallowing in such junk! This kind of stuff should be left to soap-turned pop-stars and talentless pretty-boy dance routine groups. Rod should not have recorded these songs.
As a staunch Rod watcher of more than 25 years, I find these two songs the most embarrassing moments of Rod's career to date! Whoever suggested that he record such decadent material (and I bet you it wasn't Rob Dickens!), completely misunderstands Rod and his record buying public. Both songs are as dangerously alienating to his core audience as 'Da Ya Think I'm Sexy?' was in 1978. Rod has nothing to gain by recording material like this and everything to lose. I predict that in future years these two recordings will be acknowledged as BIG mistakes, but in the meantime Rod will lose face because of them.
My (only) other beef is the inclusion of 'Tonight's The Night', 'First Cut Is The Deepest' and 'You're In My Heart'. Although they are all undeniably excellent, they belong to another era and everyone who is likely to buy this collection will already have them. They all appeared on the multi-million selling 'Greatest Hits' and 'Best Of Rod Stewart' compilations and two of them were on 'Unplugged and seated' just a couple of years ago. These songs should have made way for more recent ballads such as 'Your Song' and 'So Far Away' (which have never appeared on a RS album before) and 'You Are Everything' from 'Vagabond Heart'. These songs are proof that Rod can still deliver definitive versions of previously acknowledged classics. Maybe it was felt that Rod should have at least a couple of his own songs featured. Or, more likely, maybe it was a case of economics. This album could sell anything from 2 million copies upwards and there are huge songwriting royalties at stake. Rod will earn a fortune from 'Tonight's The Night' and 'You're In My Heart' without having to lift a finger! Whatever the reason though, they are sorely out of place on this collection.
Thankfully, the other selections are most welcome. Several of them appear on album for the first time and a couple of songs, which were not given a fair hearing the first time around, are given another chance. 'Forever' Young' (1996) is a slower re-working of the classic track from 'Out Of Order'. Produced by Kevin Savigar, the song works well and fully deserves the chance to be heard again, particularly in Britain where it was unjustly overlooked. Other golden moments include an improved mix of 'Have I Told You Lately', 'All For Love' (available on album for the first time) and the long overdue Stateside release of 'Tom Traubert's Blues'. A printing error on the album sleeve will have you believe that 'I Don't Want To Talk About It' is from 'Atlantic Crossing' when it is infact the 1989 version from 'Storyteller'. A good idea, as many fans won't have heard this one before. 'This', 'My Heart Can't Tell You No', and 'Broken Arrow' are all sheer class and are deservedly featured here. Again, all are brilliant interpretations which deserve to be heard again and were sadly neglected when originally released in the UK.
In 1988 Rod presented us with a rock 'n' roll album on a par with the Faces 'A Nod's As Good As A Wink'. He followed it with numerous classic cover versions, each one demonstrating his good musical taste. In 1993 he left critics gobsmacked with his MTV Unplugged performance: Rod is back in top form, was the word on the street. 'A Spanner In The Works' was a classic, as were the new tracks on 'Lead Vocalist'. It is the excellence of Rod's recent work that make the two new covers on this album even more depressing. They signal a blatant step towards Val Doonicanism. Rod has already been dropped by Radio One and re-located to boring Radio Two - and who listens to them? If he isn't careful, he could find his records being moved from the Rock to the Easy Listening sections of record shops.
The truth may be that Rod is too happy to make the killer record we all will him to. By his own admission, he is lazy when it comes to song writing. He has more money than he knows what to do with and a wife he is madly in love with. Who would deny him that? It would be sad if this album heralds a permanent move into MOR. However, 13 winners out of 16 isn't bad and despite my horror at Rod's uncharacteristic lapse of taste, I forgive him.

John Gray