Rod Stewart - Every Picture Tells A Story
Released:
1971
Label:
Mercury, 6338 063
Charts:

chart peak

date certified

UK:

1

US:

1

gold
platinum 1


02.08.1971
27.01.1995

Buy this CD from Amazon.com:
Track listing:
Details: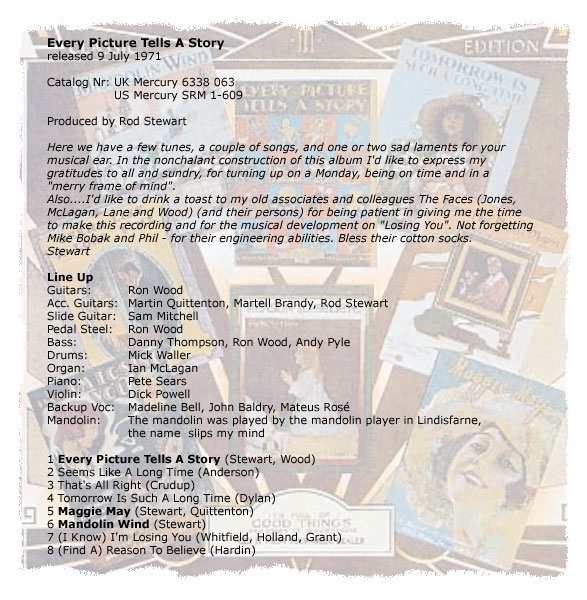 Reviews:
Jimmy Guterman's 1992 book 'The Best Rock 'n' Roll Records Of All Time' placed 'Every Picture Tells A Story' firmly at the top of a one-hundred strong listing. Also featured in the first twenty were the Rolling Stones, Otis Redding, the Clash, Bruce Springsteen and Jimi Hendrix who, unlike Rod, are all artists frequently accustomed to finding themselves included in both critic and fan "Best Ever" lists. It was therefore a refreshing change to find 'Every Picture Tells A Story' rightly towering over the lot of them. All too often, Rod's 1971 breakthrough album has been ignored by critics and fans voting in polls, in favour of the more pretentious, trendy and fashionable. But in truth, rock 'n' roll doesn't get any better than 'Every Picture Tells A Story' and those who doubt it are limited to those who have not heard the album, thereby denying themselves perhaps the greatest listening experience in rock history.
In the week ending 24 July 1971 'Every Picture Tells A Story' entered the UK charts. It remained there for 81 weeks. Rod's only previous solo chart success had been with 'Gasoline Alley' which peaked at No. 62 a year earlier, staying on the charts for just one week. 'Every Picture Tells A Story' made slow progress towards the top and it wasn't until the week ending 2 October that Deep Purple's 'Fireball' gave way to Rod, who stayed at No. 1 for an initial four weeks, after which John Lennon interrupted the run with 'Imagine'. Two weeks later, however, Rod regained the top slot for two more weeks and for most of October, 'Every Picture Tells A Story' stood at No. 1 on both sides of the Atlantic, together with the albums double A-sided single 'Reason To Believe' / 'Maggie May'.
Following seven years of struggling, Rod had finally gained mass popularity, but more unusually, had managed to retain his artistic integrity. It seemed that everybody loved Rod - pop fans, serious rock fans, radio DJ's, fellow recording artists, teen magazines and, most significant of all, the music press. The sheer vitality of 'Every Picture Tells A Story' combined with the good-time feel of 'Maggie May' had bought years of hard work to fruition and it was generally agreed that Rod's new found success was well deserved. More than anything, Rod proved that you can make good music and have a bit of fun doing so. His appearances with the Faces performing 'Maggie May' on the BBC's Top Of The Pops were among the most hilarious the show has ever seen, and delighted TV audiences, just as the Faces' live shows had delighted a country-wide cult following prior to the success of 'Maggie May'.
There is so much to admire and celebrate about 'Every Picture Tells A Story' that it's hard to know where to begin. It is the album that represents the point at which Rod Stewart the songwriter, producer, singer, interpreter and even instrumentalist, finally converged to introduce a style and identity which was unique. The album contained an astonishing selection of diverse and outstanding material, coupled with daring instrumentation and a real sense of purpose among the musicians involved. These key ingredients, which came together almost by mistake, made 'Every Picture Tells A Story' a genuine one-off and an achievement which Rod has never been able to repeat. After such a display of brilliance, Rod's problem was trying to come up with a sequel. He finally settled for the sideways move which was 'Never A Dull Moment', but it would not be long before he was on his way to America and the peroxide bottle.
A major reason for the success of 'Every Picture Tells A Story' was its magnificent range of hard-hitting rock, soul and folk influences. Rod has used these styles to construct virtually every album since, with more success than he is generally given credit for. As anyone with the complete collection knows, when it comes to interpreting other writers songs, he has frequently come close and many times surpassed the covers featured on 'Every Picture Tells A Story'. Thirty years ago, however, Rod had it all: popular and critical acclaim, the perfect band complimenting his style, a hunger to make music that mattered and a voice that had, and has never since, sounded better. Listening to 'Every Picture Tells A Story' today, it's easy to understand why so many felt Rod threw it all away when he left his studio sidekick's at Mercury Records, quit the Faces and fled the UK to live in Los Angeles.
Ron Wood's acoustic guitar introduces the title track to 'Every Picture Tells A Story' to make way for Rod's razor-sharp vocals, and from this moment onwards you know this is Rod Stewart at his prime and a record you are never going to forget! Arguably the finest slice of rock 'n' roll ever recorded, the song is up there with the best and it is incredible that it is nowhere near as well known as lesser "rock anthems" of the time. Forget 'All Right Now', 'Brown Sugar' or 'Won't Get Fooled Again' - all fall flat by comparison. 'Every Picture Tells A Story' is the ultimate hard rock track! Utterly convincing throughout, hard-biting, on the edge and packed with heart, humour and soul. The song paints one of the most vivid and descriptive pictures of any song in the rock era and the frenetic energy is unbelievable and even more impressive when you consider that it is supplied by simple acoustic instruments for much of its 6:02 minutes. The climax, a heart-felt duet between Rod and Maggie Bell, is one of rocks greatest moments. This is full-throttle rock 'n' roll, pounding away furiously, breathtaking to the extreme, eloquently expressed and a track that sums up youth, life and a man in love with the world and living life to the full. For such an epic recording, it's amazing that Rod didn't perform it live until 17 years after its release when it was included on the 1988 'Out Of Order' tour. The song has remained in and out of the set ever since. This track alone makes me forgive every subsequent mistake, embarrassing television appearance, terminally duff MOR recording and dodgy pair of spandex pants Rod has ever been involved with since.
Listening to the title track is exhausting, so Pete Sears' piano offers a refreshing change of tempo on the gospel tinged 'Seems Like A Long Time' originally recorded by folk duo Brewer and Shiply. This time Rod is helped out by Madeline Bell, the fine singer from Blue Mink. Providing back-up vocals is none other than Rod's mentor Long John Baldry. The singing and playing are fine, but the song doesn't match the quality of either the three originals or the two key covers - '(I Know) I'm Losing You' and 'Reason To Believe'. Despite the critics claims that Rod went bust after this album, there are literally dozens of better songs on Rod's subsequent albums - both original and otherwise. However, the vocals are as sharp as ever and Rod's delivery perfect.
Rod's hard-rocking take on Arthur "Big Boy" Crudup's 'That's Alright' (also Elvis' debut record) manages to cut through both the Elvis and Crudup versions - and that's no mean feat! The second of the albums trio of hard rockers and like the title track, the raw energy is almost entirely built up by acoustic instruments with just a short electric break towards the end. Once again Ron Wood's distinctive guitar plays almost as important a part as Rod's throat.
Coincidentally, the next two tracks had also been recorded by the King. 'Amazing Grace' may seem a bizarre choice and an oddball of a song for critics to rave over, but the way in which Rod delivers the vocal over Ron Wood's slide guitar makes it a runaway winner and not the piece of sentimental rubbish many may imagine it to be. Of course, had it turned up a few years later there would have been shouts of just that from the critics, yet incredibly they still rave over this version thirty years later. It's this kind of touch that makes the album what it is and provides proof that Rod is the best producer of his own work.
Bob Dylan's 'Tomorrow Is A Long Time' was written in late 1962 and performed only twice that decade: once on radio and once in concert. A recording of that 1963 concert performance turned up in the December of 1971 on 'More Bob Dylan Greatest Hits' and he re-introduced the song briefly on his first few 1978 Far East dates. It's not clear where this was picked up from, but knowing Rod it was probably an obscure Dylan bootleg. This is the albums sleeper, an overlooked example of Rod delivering the definitive version and so completely dumping over the original (and the Elvis version) in the process. The song is one of the most romantic Rod has ever recorded and not full of the cheese that would mar some of his latter day ballads. It has the delicate feel that evokes a hot, late-summer evening. The lyrics are wonderful and it is beautifully played by the band. When people think of classic Rod Stewart albums, mention of fiddles are never far away. Yet this is one of only two tracks on the album to feature that treasured and distinctive trademark that Rod had introduced so successfully on 'Gasoline Alley'. 'Tomorrow Is A Long Time' is a beautiful conclusion to the first half of the album and deserves to be resurrected, as Rod could make a fine job of it live.
If side one of 'Every Picture Tells A Story' contained the finest piece of rock 'n' roll ever committed to record, then side two boasted Rod's best ever ballad, his most memorable hit and two of his finest interpretations. Once again, unusual touches are the order of the day and 'Henry', a charming thirty-second acoustic instrumental played by Martin Quittenton, paves the way for the song that made everything possible. This was where Rod's folk roots, met Quittenton's classical training and introduced the mandolin to mainstream rock music nearly two decades before the likes of REM. I don't know how many times I've heard 'Maggie May' - maybe 10,000 or so? Who knows? But what I do know, is that every time I hear it, I find something new, something interesting, something fresh, which I hadn't noticed before. I never, ever tire of hearing it and that is the secret of the song. It still sounds superb today, is truly timeless and doesn't follow fashion like many of Rod's later hit records. I can't ever imagine not wanting to hear it again and again, such is its durability. This is the rock single at its most perfect - fun, intelligent and rockin' all at the same time. Exhilarating is the only way to describe the legendary mandolin break at the end.
'Maggie May' didn't just sell because it was a great record however. It was an excellent example of a record being sold thanks to the singer's image. The music press had been featuring Rod and the Faces on their front covers for two years before 'Maggie May' hit and the band had earned themselves a reputation for hard drinking and hard partying. When Rod appeared on the BBC's Top Of The Pops, this image was re-reinforced and was particularly appealing to young males, who at that time made up the majority of Rod's audience. Rod would kick footballs around, strut about like a constipated rooster, tossing the mic stand high into the air, whilst the Faces all played around, swapping instruments, pulling faces and basically sending up the whole pompous Top Of The Pops procedure.
Yet despite this on-stage image, Rod was amongst the most sensitive songwriters of the time. The evidence is provided by 'Mandolin Wind', an astonishing piece of work coming from someone who freely admits that he hates songwriting. Rod paints a vivid picture of an extremely cold winter on the American plains and sings about his feelings for his lady who loves the sun. The buffalo are dying in the fields, the snow is falling, but his lady stays. Once again, the mandolin is featured, the texture is folky and lyrically this is amongst Rod's strongest. It's not until the end that Micky Waller's drums arrive and Rod repeats his love for his lady, over and over again. Absolutely stunning! And another song which didn't get a live airing until 1988.
From 'Mandolin Wind' to '(I Know) I'm Losing You' - an acknowledged Faces track. This is a cover of the old Temptations song and yet another example of Rod brilliantly wiping the floor with the original. This became a live favourite in the Faces' set and has been performed by Rod on stage ever since. Featuring an excellent drum solo by Kenny Jones, it really is an example of what the Faces were capable of when they put their minds to things and got out of the pub!
'Reason To Believe' was, of course, the original A-side to 'Maggie May' and is a fitting close to a stunning album. Lovely trademark fiddle and Hammond organ, gel together perfectly with piano and acoustic guitar to provide the ideal accompaniment to Rod's warm vocals. Once again, the original is left in the shadows as Rod brings another obscure song to a wider audience. This is the third song from the album to get its first live airing on the 1988 'Out Of Order' tour. Coincidentally, the composer, folk-rocker Tim Hardin, also penned 'If I Were A Carpenter' which was covered by the Small Faces a few years earlier.
Comparing 'Every Picture Tells A Story' to much of Rod's work of the past 20 years is a revealing experience, and in some ways a depressing experience. Ninety per-cent of the reason the album is such a triumph is due to the original songs. And this fact does make me wonder how Rod arrived at his current situation. In 1971 he appeared in the writing credits of eleven songs - three on 'Every Picture Tells A Story', plus eight on the two Faces albums of that year. By contrast, in the ten years between 1992 and 2001, he has offered just five self-penned songs. This years 'Human' is the first ever Rod Stewart album which does not feature any of the artists own songs. No one who covers as much material as Rod does, no matter how great the covers, no matter how wonderful the voice and the live performance, is going to be taken seriously. Maybe accusations that Rod squandered the monumental talents that he displayed on this album in favour of scoring sure-fire hits holds some truth. Indeed, it is really hard to believe that the Rod Stewart on 'Every Picture Tells A Story' is the same one who went on to dish up such forgettable MOR moments as 'Trade Winds', 'That's What Friends Are For', 'When I Need You' and 'Faith Of The Heart'.
Many of us have been waiting thirty years for Rod to match this album. Not to necessarily make an album like it, but to make an album as mature, vibrant and enduring. An honest, down-to-earth, Rod Stewart album in which the singer takes back control (from Rob Dickens) and records the way he knows best, selects the songs he loves best, and writes from the bottom of his heart. An un-calculated, un-pretentious, back-to-basics album which doesn't pander to trends. Dylan, Van Morrison and Santana are living proof that it can be done and we all know that Rod is more than capable of delivering. As it is, with each year that passes, that dream album appears to fade further and further into the distance.
'Every Picture Tells A Story' is proof that Rod Stewart once had everything on his side. 'Human' and the current hits tour, as pleasant as they both may be, remind us that Rod has been coasting for far too long. Rod is a singer searching for a new audience and a singer in real need of a re-vamp. With Glastonbury coming up next summer, what a great time 2002 would be to release the album we've all been waiting for.
The thirtieth anniversary of 'Every Picture Tells A Story' came and went without acknowledgement. At the very least, a celebratory concert should have been arranged in which Rod performed the album live. Once again the critics would have raved and remembered why they loved the album so much in the first place. Now that would be some concert. A rock 'n' roll heaven if ever there was one! Every picture still tells a story, don't it?


John Gray, Summer 2001