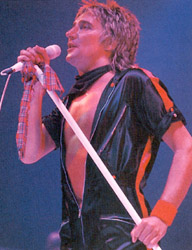 PERCHED AT the top of the UK album charts on 1 January 1980 was Rod Stewart's Greatest Hits, as if Rod was declaring: 'Slate me all you like, but I'm still here and I'm still Number One!' The albums success was testimony to Rod's sheer staying power. It held the top slot for five weeks, punctuating the seventies perfectly and marked an end to yet another chapter in the Rod Stewart story, as a change in direction was just around the corner.

Fans had been starved of new material throughout 1979 with only Greatest Hits to plug the biggest-ever gap between new Rod Stewart recordings. By May 1980, there was still no sign of anything new. Press releases issued earlier in the year pointed out that Rod was in the studio and a new album - likely to be a double - was imminent. Eventually, Riva Records realised that Rod's year-plus absence from the singles chart was far from desirable and If Loving You Is Wrong from Footloose And Fancy Free was released as a single. The record made a respectable No. 23, but its timing could not have been worse. Shortly after release, a strike at the BBC put Top Of The Pops out of action for six weeks, denying the record valuable exposure.

The new album titled Foolish Behaviour eventually surfaced in November, a full two years after Blondes Have More Fun. In an array of publicity, a string of UK dates were announced for December which formed part of a ten-month tour commencing in Europe and concluding late summer in the States. The album wasn't a double after all, although the cassette version featured an extended Passion and a bonus live version of Willie Dixon's I Just Want to Make Love To You.

Discounting the Dixon song on on the cassette, it was the first time a Rod Stewart album had featured all original material. Although more satisfying than Blondes Have More Fun, press and fans alike were quick to notice that much of the album seemed derivative. The opener Better Off Dead took its title from an Elton John song and guitar licks from a T Rex hit; the title track was a fine piece, but blatantly borrowed lines from Jagger/Richards 'Sympathy For The Devil'; So Soon We Change bore more than a passing resemblance to 'Walking On The Moon' by the Police and Dance With Me was a dead-ringer for the Stones 'Respectable'. Even Passion, by Rod's own admission, was an attempt at writing a song to match Marvin Gaye's 'Inner City Blues'. Only Oh God I Wish I Was Home Tonight with it's acoustic quality and squeaky fiddle offered the unique Stewart style of old.

Foolish Behaviour was not received well by critics. The British music press no doubt decided they were going to hammer it before hearing it and the majority of reviews consisted of personal attack, rather than constructive comment. Despite such negative press, it quickly reached platinum status on both sides of the Atlantic, peaking at No. 4 in the UK and No. 12 in the USA. But it's success was short lived. Whist Rod's four previous albums had remained on the UK charts for at least eight-months each, Foolish Behaviour managed only 13 weeks. This was partly to do with the below average performance of the singles from the album. The first choice was Passion, the first in a string of excellent, up-tempo rock/pop hits Rod scored throughout the decade. It was a great record, yet only managed No. 17 in the UK. Notable, as each album since 1971 had spawned at least one immediate Top 10 hit. Things were not helped by Dave Lee Travis's introduction of the song on a live edition of Top Of The Pops. Travis randomly selected a spotty youth in the audience and asked if he liked Rod Stewart. The response was an immediate 'no!' The tone of the answer and screwed up look on the young mans face suggested he had been most offended by the question! An embarrassed Travis quickly introduced the record which subsequently dropped down the charts the following week. My Girl was hurriedly released as the follow-up single only to stall at No. 32. A final attempt at a third hit with Oh God I Wish I Was Home Tonight was halted in its tracks when the BBC banned the record due to its lyrical content. In America things were slightly better. Passion managed a healthy No. 5, although Somebody Special the soulful follow up stalled at No. 81.

It was, however, a time of mixed blessings. Tickets for the UK tour sold faster than any previous tour of Rod's career. Applications for a six night string of dates at Wembley Arena were an incredible 100,000 over subscribed! The reception from fans at the concerts was as enthusiastic as ever. At the opening Wembley concert, one reporter noted fans appeared to be bodily climbing over each other in order to get near to the stage! In fact in every town Rod ventured, whether it be Leicester, Glasgow or for the first time, Dublin, he played to highly enthusiastic crowds. The tartan horde were still in evidence and the community singing as loud as ever. Not bad considering rock stars didn't come more un-fashionable than Rod in 1980!

At the end of January 1981, Rod summoned band members Gary Grainger, Phil Chen and Kevin Savigar for an American television appearance to push Passion. The response of Grainger and Savigar was far from enthusiastic. Rod was furious and immediately sacked all three. This gave him the excuse he needed to inject new blood into the band. Out went Billy Peek to be replaced by Robin Le Mesurier, Grainger was replaced by Danny Johnson and Chen by Jay Davis. For some reason, Kevin Savigar was forgiven and re-joined! When the new line-up made their debut in the Far East during May, they played in a noticeably heavier style than the previous band. It soon emerged that drummer Carmine Appice was behind many of the changes in an attempt to give the band a more rock based sound. After the tour, Rod planned to release a live album. However, Warner Brothers rejected the idea as they didn't approve of the audience singing! As a result, Rod postponed his tour of the States and returned to the studio.

Rod's next album, 1981's Tonight I'm Yours, was a classic, possessing many of the hallmarks of his early seventies work. It was received well by several music papers - notably Sounds and Rolling Stone, who pointed out that the spark missing from Rod's previous two albums had re-ignited. The sound was modern, fresh and slick and the selection of songs superb. The albums title track gave Rod his first UK Top 10 single for three years. However, the albums real gem was Young Turks a song about teenage pregnancy. It cracked the American Top 5 and went to No. 11 in the UK. Had it not been for a two week gap in the British charts over the Christmas period, it would have almost certainly made the Top 10.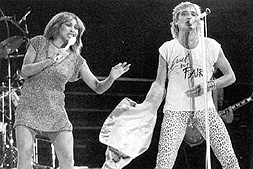 On 11 November, Rod started his first North American tour in over two years. It clashed with a Rolling Stones tour and it soon became evident that Rod and Jagger were in direct competition. Both acts talked of plans to beam their concerts around the world. In the event it was Rod who stole the Stones thunder, when on 19 December, his Los Angeles Forum concert was beamed live around the world and to London's Leicester Square Odeon, attracting a worldwide audience of some 60 million. Rod invited a struggling Tina Turner to sing a couple of songs with him at the show which is unanimously regarded as the turning point in her career, paving the way for her belated solo success in the eighties. Several notable critics were ecstatic about Rod's return and the word on the street was that the Stewart shows were knocking the Stones for six! However, whatever the success of the album and the feelings of the press, clashing with the Rolling Stones was not a good idea. When the worlds greatest rock 'n' roll band enjoyed more publicity and sold more concert tickets, Billy Gaff, Rod's manager, got the blame. It wasn't long before he was sacked. However, the bad timing of the tour wasn't the only factor in Gaff's removal. Reports were rife that Rod's wife Alana, was keen for her husband to sacrifice singing in favour of a career in films. She was tired of the constant touring and the couple had endured endless rows on the road. Members of Rod's band and entourage noted how one by one, working colleagues appeared to be disappearing at Alana's request.
Eventually a live album was released in November 1982. Backed by a strangely low-key publicity campaign, Absolutely Live boasted a superb selection of eleven hits. It should have been an instant winner with fine renditions of Sailing and I Don't Want To Talk About It (featuring the communal singing from London that Warner Brothers had so strongly objected to) and two previously un-released songs.The double album came lavishly packaged, the band played well and Rod's voice was in fine form, yet it bombed! It made an astonishingly low No. 35 on the UK charts selling fewer than 50,000 copies and only No. 46 in the USA where it took over a decade to pass the half a million mark. Amazingly, it appeared that Rod was more than happy to sit back and watch as it disappeared into oblivion. In private though, he was mortified and immediately returned to the recording studio. At the same time, there was a looming court case hanging over his head with Billy Gaff who boasted to the press that he'd warned Rod not to release a live album: 'I didn't think it would do his career any good, but he wouldn't listen.'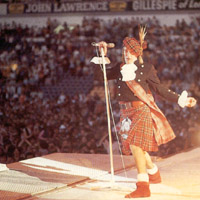 Seven months later came the new studio album Body Wishes. It featured ten original songs and some interesting lyrics: Ready Now was directed at Gaff and even made No. 2 on the Heavy Metal charts! Dancin' Alone proved that Rod had lost none of his sense of humour and Strangers Again appeared to be a plea to his wife. It was by no means a bad album, although it was universally slammed by the critics. Once again, Rod had been away from the singles chart for over a year and rumours were rife that he was worried. It had also been another long period away from the British stage - this time two and a half years. A planned tour of football stadiums, which was to have included Leeds and Bristol, was shelved in favour of a low key string of dates at Earls Court, London and the Birmingham NEC. Only Ibrox Stadium in Glasgow survived from the original tour itinerary. Fans in Manchester, a Rod Stewart stronghold since the days of the Faces, were bitterly disappointed that their city was not to be visited, as were fans in Leicester and Brighton where Rod had played on previous tours. In all, the total number of dates in the UK and Ireland was a miserly eight. It seemed that just as Rod needed to cultivate the market and expose himself to as many fans as possible, he did just the opposite.
The knives were out and critics were keen to slate Rod in writing. Simon Kinnersley reached new depths in a vicious article in the News Of The World magazine entitled 'Too Old To Rock And Roll' in which he predicted Rod's career was at an end. Even more disgusting was the famous NME comeback interview by Paolo Hewitt, someone who should have known better. Hewitt demonstrated a clear lack of understanding and reduced a lengthy chat to just two pages consisting mostly of his own misguided and confused thoughts.
When Rod appeared on stage at Earls Court he faced the biggest challenge of his career and admitted to the crowd how nervous he was. He needn't have worried, the fans were still behind him and even the most diehard of critics were silenced! No one could deny that it was a remarkably triumphant return! If Rod had succeeded on stage, then he excelled himself in the charts beyond his wildest dreams - Gaff, Kinnersley, Hewitt and all the other knockers must have been dismayed! Body Wishes became the first ever Rod Stewart album to produce three consecutive hits. Baby Jane went to No. 1 where it stayed for three weeks! The album did amazing business throughout Europe and stayed on the UK charts for 27 weeks. In August What Am I Gonna Do? shot to No. 3 whilst the ballad Sweet Surrender climbed to No. 23 at the end of the year. 'Bollocks to the music papers' Rod told the audience at Birmingham NEC. 'Fuck the art, lets rock 'n' roll' proclaimed the shirt on his back.
In America the story was different. Body Wishes only managed No. 30 and the singles Baby Jane and What Am I Gonna Do No's 14 and 38 respectively. The album was the first Rod Stewart album to fail to reach gold status in the States since his 1969 debut and it quickly became public knowledge that Rod was far from happy with the situation. The original plan following the 'Body Wishes' tour, had been for a tour with Elton John. The pair would perform soul standards together, rather than their hits and dates were booked. However, Rod was so worried about the poor American sales of Body Wishes he pulled out, much to the dismay of Elton John who promptly denounced him in the press. Rehearsals for the tour would have meant no time for a new album and Rod was keen to hit all the right buttons in the States. He was also in need of a manager - enter Arnold Stiefel.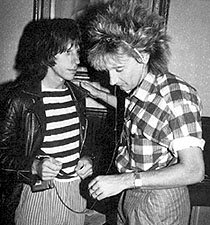 If ever there was an album aimed at the American market, it was Camouflage. It was Rod's fourth offering of the decade and an album that probably wouldn't even have been made but for the poor sales of Body Wishes. With a new manager and much determination, the aim was to turn the clock back, yet at the same time retain a modern up-to-date sound. Rod had heard the Donna Summer record 'She Works Hard For The Money' and liked the sound and chose Michael Omartian, Summer's producer, to work on the album. The previous year, Rod had met up with Jeff Beck in Los Angeles and when the pair were out at dinner, apparently suggested to Beck that they form a new band. After years of mistrust and constant digs at each other, it seemed as if the rifts had been healed. As a result, Rod helped out on a Beck recording session and Beck agreed to play on Camouflage appearing on three out of the eight tracks.With the exception of an ill advised cover of Free's Alright Now and the rather dull ballad Trouble, the album held it's own. It reached a respectable No. 18 in the States, quickly turning gold and was Rod's first ever album to produce two back-to-back Top Ten singles: Infatuation made No. 6 and Some Guys Have All The Luck No. 10. Following the UK success of the singles from Body Wishes, expectations of Infatuation were high. It enjoyed a prime plug on BBC1 when Rod lip-synched the song on The Montreux Pop Festival and also secured a play on Top Of The Pops. Surprisingly though, it only managed No. 27, with the honour of the biggest hit from the album going to Some Guys Have All The Luck which made No. 15. Meanwhile, Camouflage continued Rod's proud run of Top Ten albums in the UK making No. 8.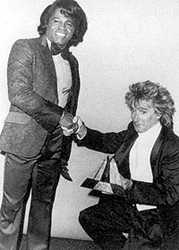 Back in America, Rod was astonishing the critics with some of the best live shows he had ever given! The original idea was that Jeff Beck would tour with Rod and have his own spot, as well as guest on several of Rod's songs. In the event, the fiery guitarist walked out after only seven shows, famously blaming Las Vegas type audiences full of blue-rinsed, middle aged women as the reason for his desertion. Although this was somewhat an exaggeration, as according to record company research, Camouflage was being predominately purchased by males between the ages of 18 and 25. On the classic San Diego home video (for some reason never released in the UK) Rod's new found energy and youthful audience are there for all to see. Virtually every concert was a sell out and the evidence of Rod's electrifying performances on this tour has thankfully been preserved on video forever. The Camouflage tour continued into the first quarter of 1985, resuming with two concerts in South America at the Rock In Rio Festival. The two shows, in front of 200,000 people each night, were the biggest audiences Rod had ever played to! Next it was onto Australia and New Zealand, before a controversial, and much criticised, string of ten concerts at Sun City in South Africa. A few weeks later Rod was one of only four white performers invited to sing at a celebration concert at the Apollo in New Yorks Harlem district. The venue is universally regarded as the home of black American music and the birth place of Motown. Billed as 'Motown Returns To The Apollo' Rod described the show as the highlight of his life, appearing on a bill which included Wilson Pickett, Little Richard, Smokey Robinson, Diana Ross and The Four Tops, in front of a predominately black audience.
As far as record releases were concerned, 1985 was a lean year. Following the bust up between Rod and Jeff Beck on the USA tour, Beck surprised everyone by including People Get Ready on his album Flash. Rod handled the lead vocals on the track and it was originally thought record company problems would prevent it from ever being released. When the track was released as a joint single it was universally hailed by critics to be Rod's finest work of the decade. People Get Ready was a haunting rendition of the old Curtis Mayfield song and had first been performed by Beck during the ARMS tour of Britain in September 1983 with Andy Fairweather-Low on vocals. When the ARMS tour went to the States during late 1983, Beck invited Rod to sing on the track and the result, according to Epic's press release was 'a totally spontaneous and brilliant rendering. A classic.' However, no amount of critical acclaim could save the record from the RSFS (Rod Stewart Flop Syndrome.) The record received zero promotion, sparse airplay and no major advertising. Although a fine video was available for television use, most programmers were unwilling to use it without personal back up from either Beck or Stewart which was not forthcoming. The result was one of Rod's finest ever performances on record failing to make even a dent on the British charts. It peaked outside of the official listings at a lowly No. 85. Ironically, the record went on to make No. 49 six years later when re-issued to push a Jeff Beck box set and charted yet again when the 'Unplugged' version was released as a single in 1994 and reached No. 45.

Live Aid, one of the greatest musical events in rock history, took place in 1985. The line-up included Elton John, David Bowie, Mick Jagger, Queen, Tina Turner, Paul McCartney and just about everyone else imaginable - except Rod that is! Rod publicly expressed an interest in playing at the show during the early planning stages, and just days before the event, the Daily Mirror announced he would perform a duet with Madonna. In the event, he did not appear and no official reason was ever given. A year or so later, he claimed his absence was due to his guitarist, Robin Le Mesurier, not being able to obtain a visa to enter the USA. If that was the reason, it was a poor excuse. Those who observed the situation at the time, still suspect that the real reason was that he had been snubbed by the organisers. Perhaps they were afraid he would steal the show? Who knows and who cares! Looking back at Live Aid from the vantage point of 1999, it comes across as more of a mutual back-slapping publicity stunt for the music industry than a charity event for the starving in Africa. In any case, prior to Live Aid, Rod was almost certainly rocks biggest contributor to the cause, having quietly donated seven years of royalties from Da Ya Think I'm Sexy?, his biggest selling song of all time. Two years earlier, he had also donated the royalties from Ghetto Blaster on Body Wishes to the charity World Vision. It was a cause close to Rod's heart and if anyone should have been invited to play Live Aid and had a right to be there, it was Rod Stewart.
Rod spent the latter part of 1985 writing and recording songs for his next album. Although there were a few token live appearances, including Aids Aid in Los Angeles where he dueted with Cyndi Lauper and an appearance at one of Elton John's Wembley Arena shows where he dueted with George Michael. The year concluded with a huge one-off concert at Tampa Stadium in Florida on 7 December.
When Rod returned to the British stage in June 1986, three years had passed since his last UK appearances. There was talk about retirement, not from Rod, but from the ever cynical press. After all, he had reached the grand old age of 41. How much longer could it last? Even Rod didn't seem too sure and expressed surprise at touring the UK at all, telling one reporter that, at the time, he'd thought the 1983 concerts were his last.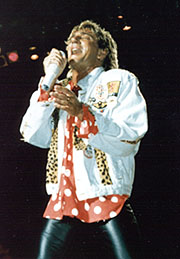 The promotional campaign for Rod's 1986 album Every Beat Of My Heart began with a live appearance on the Terry Wogan Show. It was Rod's first appearance on a live chat show since the early seventies and it was well known he loathed such engagements. Dressed in clothes not dissimilar to his host, he engaged in general chat for 10 minutes before a brief video clip of the single Love Touch was screened. This, it appeared, was Rod's new mature image - a far cry from his seventies chat show appearances where he appeared draped in satins and slightly the worse for drink! Every Beat Of My Heart was a true attempt to get back to basics. Featuring eight originals, one cover and the specially written single Love Touch, it was,with the exception of the single, a step in the right direction.Tracks like Red Hot In Black were dead ringers for the Faces, featuring thrashing guitars, rollocking keyboards and cheeky lyrics. Whilst others such as Ten Days Of Rain confirmed Rod's strength as a lyricist was still intact. A daring cover of the Beatles In My Life was one of the most moving performances Rod had ever put down on record and In My Own Crazy Way one of the most soulful. The album sold well in the UK reaching No. 5 on the charts, but Rod's absence from the States ensured it only managed a peak of No. 30, although the single Love Touch made No. 6.
On a second Terry Wogan Show appearance a few weeks later, there were no pretensions of maturity - no suit, no tie, no adult orientated posture as he sat with his legs casually dangling over the side of his chair. Sporting leather trousers and a red and white striped shirt, he gave stand-in presenter Derek Jameson a brief interview and appeared much more at ease than he did with Wogan. The main reason for the appearance was to push the single Every Beat Of My Heart and as a result the record soon shot to No. 2 on the UK charts and at one point was only 1,000 copies behind the No. 1 single by Madonna.
The European tour was his longest of the continent yet - a full five months. The key date was at Wembley Stadium on 5 July, which was preceded by six indoor dates, two each in Belfast, Glasgow and Birmingham. It was the first time Rod had played an outdoor show in the UK for 12 years and his first at the stadium. Tickets were put on sale just eight weeks in advance and sold steadily. The tour was preceded by an appearance at the Princes Trust concert at Wembley Arena where he performed Sailing alongside such Live Aid favourites as Paul McCartney, Phil Collins and Elton John. Midge Ure, one of the organisers of Live Aid, commented that he thought the only reason Rod played the show was in an attempt to sell more tickets for his stadium show.
The tour kicked off on 27 June in Belfast and by the time it reached Wembley on 5 July Rod's confidence had been boosted. Any worries he may have had about returning after a three year absence soon faded as the fans welcomed him back like a prodigal son. The concert was an extraordinary success, despite predictions of doom, gloom and poor ticket sales. Rod pulled in a crowd of over 66,000 even though it was a dull rainy day. As he took to the stage, it was pissing down, but nobody cared. The community singing was as strong as ever and on the likes of Maggie May, I Don't Want To Talk About It and You're In My Heart the crowd sung their hearts out. Rod was so impressed, that a few weeks later he released the live version of I Don't Want To Talk About It on a special edition single! The undisputed highlight of the show was a brief Faces re-union. The crowd went wild as Wood, Jones, McLagan and Bill Wyman staggered on stage, helping crippled Ronnie Lane to a seat at the side where he watched and sang backing vocals. The band played a short set consisting of Stay With Me, Twistin The Night Away, (I Know) I'm Losing You and Sweet Little Rock 'n' Roller.
A few days after Wembley, Rod announced he was so touched by the reception he received that he would tour the UK again in the Autumn. Meanwhile he continued throughout Europe, playing to huge crowds wherever he ventured. To coincide with the Autumn dates, a third single was released from the album. The hard rocking Another Heartache should have been a hit, Rod had ample opportunity to personally promote the record, even if it had been just by playing it live at the concerts. However, yet again, due to RSFS, it stalled at No. 54. An unprecedented attempt at a Christmas hit from the album with the double a sided In My Life and In My Own Crazy Way also failed for the same reason.
Immediately after Christmas, Rod went back into the recording studio. Although the album Every Beat Of My Heart had performed well in Europe and reached No. 5 in the UK, it had not sold well in the States. Once again, Rod was determined to put the situation right. Recording took up most of 1987 and it was the first year there were no concert appearances anywhere in the world. Rod explained his absence from the limelight by announcing he wanted to spend more time with his children. The only new material released was a re-recording of Twistin' The Night Away recorded for the Stephen Spielberg film 'Innerspace'. Released as a single, it failed to make any impact on the charts, yet again due to RSFS.
It was the critics considered opinion that Body Wishes and Camouflage were ill-conceived, musical hic-ups, on which Rod followed trends, rather than set them. Or, as Mojo magazine put it, crap! Certainly, there were a few synthesizers thrown in for good measure and a number of non-descript tracks. Yet for all their faults, both albums were lyrically strong and featured their fair share of traditional Stewart stompers. Some, like Dancin' Alone and Bad For You, as good as any that had gone before. Two years on Every Beat Of My Heart was a genuine back-to-basics move towards soulful ballads and Faces-type rockers, with for the most part, Rod's voice competing with thrashing guitars. It was a step in the right direction, but nothing as stunning as his final studio effort of the eighties. Two years on, Rod took the back-to-basics concept further. In a move not seen since his famous change in studio bands on Atlantic Crossing, Rod gathered together many musicians he'd never before worked with and set about forming an all-new, all-American live band. Everyone was out, even his close friends Jim Cregan and Kevin Savigar who had featured in every single post Faces band. This was Rod taking chances and it was a gamble that paid off handsomely.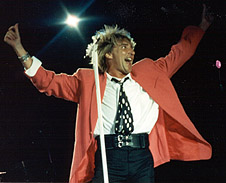 Out Of Order, released in the early summer of 1988 turned out to be Rod's strongest album of the decade. It was an undoubted triumph, heralding Rod's entry into the most successful five-year period of his career ever! The album completely re-established him in the United States and owed its success to the sheer brilliance and astonishing variety of the tracks. Rod's new songwriting partnership with Andy Taylor also played a part, as did the fact that he shared the production seat with Taylor and Bernard Edwards. The line-up of musicians on the album included Tony Thompson, Bernard Edwards, David Lindley, Andy Taylor and Michael Landau all who played with fire, spark and enthusiasm. The album was rich in musical style, covering everything from disco to good time rock 'n' roll. The nucleus consisted of five songs co-written with Andy Taylor, some on a par with the classic Stewart / Wood works! Added to these were two R&B covers, two of the strongest ballads Rod had recorded in years, a fine stab at disco and a song which would go on to become a Stateside audience anthem. The different styles gelled together perfectly, but even more significant, was the return to the use of acoustic instruments - mandolins featured on Lost In You and The Wild Horse and the squeaky fiddle made an appearance on Almost Illegal. Lyrically, Rod surpassed himself, The Wild Horse told the kind of tales not heard since Every Picture Tells A Story, and Lost In You echoed You Wear It Well. In America, the album soon topped one million sales, in Britain it wasn't the massive seller it deserved to be and to this day is Rod's only studio album to miss the Top Ten - by just one place!
The first single from the album, Lost in You, slowly, but surely crept up to No. 11 in the States as Rod set out on a three month tour. Meanwhile, the album held its own. Next came the single Forever Young which soon made No. 12 - still the album held up in the lower twenties, selling steadily. The tour was extended and a third single My Heart Can't Tell You No released. It went to No. 4 in January 1989 earning the distinction of Rod's biggest hit of the decade. Still the album held on, finally reaching a peak of No. 20. Incredibly, by May the album was still going strong, as was the tour - extended from four months to 13 months! An unprecedented fourth hit was achieved when Crazy About Her reached No. 11. One album - four Top 15 hits! Rod had only ever managed two hits from one album in the past.
When the tour concluded in mid-1989, Rod quickly returned to the studio. It was there with producer Trevor Horn that he played a master stroke which would re-establish him in Britain and win him more critical acclaim than he'd known in years. Rob Dickens had become friendly with Rod and had started suggesting songs, one of them was from the catalogue of Tom Waits. A song called Downtown Train. Rod recorded it for his boxed set Storyteller. It also appeared on the Best Of Rod Stewart album. It was not however, the first choice of single for the UK. That honour went to This Old Heart Of Mine which only reached No. 56 in the UK Meanwhile, the album entered the UK charts at its peak position of No. 3 and eventually went on to out-sell every album Rod had ever released, shifting almost two million copies in the UK alone and staying on the charts for over 100 weeks.
As the decade drew to a close Rod was named as one of the biggest selling British artists in America and was getting ready to make a spectacular comeback to the charts in Britain.