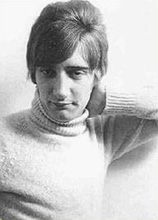 ROD STEWART has always been a star. It became apparent even during his teenage years that he was a character of the first order with fiercely held opinions, a passion for folk, blues and soul music and a taste for the limelight. So perhaps it was always a foregone conclusion that he would eventually end up in the superstar bracket and would go on to out-sell virtually all the musical idols that drew him to music in the first place.

Rod was a beatnik during the early sixties and lived with 20 friends on a derelict houseboat in Shoreham on the Sussex coast. The locals didn't like the idea of Rod and his mates not working and sent for the police who eventually drove them out by hosing them with cold water. To make sure they didn't return, they towed the barge away and sank it! The story made the front pages of the Daily Mirror and Daily Sketch and was just one of Rod's beatnik episodes. He also attended the famous Aldermaston marches that took place in a small village in Berkshire which had been chosen as the HQ of Britain's Atomic Weapons Research Establishment. Rod's most significant break came during a long trek across Europe. He had been working with his brother Bob as a sign writer and had just quit art school when he left London and went to Paris with folk singer Wiz Jones. Whilst there, they met up with blues pianist Memphis Slim in a club and started playing together. Rod was later to play with Memphis at London's Marquee as support. Young Rod and his mate Wiz would spend most of their time busking by day and sleeping on St Tropez beach by night. That was the first time Rod had to earn a living with his guitar and voice. He had picked up guitar during his days in the Archway Road where his parents owned a newspaper shop and by the time of his continental expedition, had also learnt harmonica.

At this time Rod played mostly folk songs, his influences being Ramblin' Jack Elliott, Derroll Adams and later, Bob Dylan. Rod's unofficial European tour ended when he was arrested for vagrancy and deported - third class - by the British Consul! Back in London, Rod's favourite haunts were Finch's, a folk club on Goodge Street and the Porcupine in Leicester Square.

It wasn't long before Rod started to take his guitar along to the clubs he went to. At first he would simply sit at a table, strumming for friends and anyone who passed by. He was still learning how to play and his show-stopper was a version of Eddie Cochran's 'C'Mon Everybody'. Rod would rehearse for his off-the-cuff performances by busking on the pavement outside underground stations and pubs. At his feet would be a hat and he'd only stop when the boys in blue saw fit to move him on. As his confidence grew, so did his audience and eventually, he made the jump from floor to stage.

Rod's musical interests soon moved from folk to blues and soul and he once famously remarked that he wished he'd been born black. He would spend hours trying to sound like his hero's Sam Cooke and Otis Redding and admitted it was painful at first and used to drive his mother mad. Determined to make his way via music, he joined a Birmingham based rhythm and blues band called the Dimensions, providing backing vocals and harp. The band played at weddings and other social functions, but they also secured a regular gig at a club run by jazzman Ken Colyer. The Rolling Stones played there and at this time - late 1963 - they were fast becoming famous. The Dimensions played in the interval, so Rod had every chance to watch the Stones. Shortly after Rod joined, another up and coming R&B singer called Jimmy Powell hired the Dimensions as his backing band and Rod was no longer allowed to sing, hence Jimmy Powell and the Five Dimensions were born and Rod was more or less redundant. The no-singing rule really upset Rod as he was itching to sing. But Powell insisted there was no argument - he was the singer and that was that.

Rod got his lucky break at nineteen years old when he was invited to join Long John Baldry's Hoochie Coochie Men formed from the R&B All Stars just before their leader, Cyril Davies, died. The story goes that Baldry, who had seen Rod playing harp for the Dimensions at Ken Colyer's club in London's Oxford Street, found Rod the worse for drink on Twickenham railway station and it was there that he asked him to join his band. During the journey to Waterloo station Long John explained that he was thinking of breaking up the All Stars and forming a new band. At Waterloo, Rod took the tube back to Highgate telling himself that this might be the sort of break he'd been waiting for. It was a couple of days later he heard the unexpected news that Cyril Davies was dead.

Baldry kept his promise and contacted Rod with an offer of work and just weeks later he was on stage in his first professional band! Rod was the second vocalist and Baldry looked after his band with the concern of a loving mother. With the Dimensions, Rod's earnings as a musician had been at best sporadic, but with the Hoochie Coochie Men he became a professional on a regular wage of thirty-five pounds a week! He also regularly received individual billings in gig listings such as 'Rod The Mod' and 'The Mod's Delight'. More than often the band would perform at several different shows on the same night and their non-stop gigs would cover the whole country. Rod says the first ever professional date he played was at the Twisted Wheel in Manchester. This first date was nerve racking for Rod and he apparently got through the ordeal with the help of a little black pill! The club, now called Chains, still looks very much as it did from the outside, but inside it is a different world being home to one of the city's top gay night spots. However, deep in the bowels of the club, relics from the past remain, such as a set of old twisted cartwheels.

In June 1964, Rod cut his first record with Baldry, singing on the B-side of the single You'll Be Mine. The track - a duet with Baldry called Up Above My Head was a wonderful belting number literally spitting out at you. This is one of the few sixties recordings yet to make it onto compact disc.

Rod was managed at this time by John Rowlands and Geoff Wright, who arranged an early recording session for Rod with a small company called Independent Music, based in Poland Street, London. Backed by Ian Armitt, Micky Waller and Cliff Barton, Rod cut Work Song, Ain't That Loving You Baby, Moppers Blues, Don't You Tell Nobody, Keep You're Hands Off Her, Just Like I Treat You and Bright Lights Big City. All the tracks with the exception of Work Song were eventually released in 1976 despite attempts by Rod and his then manager Billy Gaff, to halt them. Shortly after making these recordings, Rod was seen playing at the Marquee by Mike Vernon, who signed him to a five year contract with Decca. Just four months later, Rod cut his first and only single for the label, the excellent Good Morning Little Schoolgirl. This recording session took place on 10 September 1964 and Rod turned up over two hours late, calmly announcing that he hadn't learnt the songs Rowlands and Wright had chosen for him as he thought they were too commercial. Instead, he wanted to record some Sonny Boy Williamson songs and after borrowing the money, left the studio to go and purchase the album they appeared on. The songs were played in the studio and the musicians learnt them there and then! Despite an appearance on televisions influential Ready Steady Go! the record was not a success.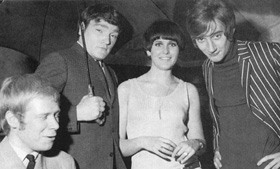 At the end of 1964, the Hoochie Coochie Men split when Baldry attempted to launch a solo career. At this time, Rod played a few solo gigs backed by a Southampton based band called the Soul Agents. The band made a single called 'Let's Make It Pretty', although Rod did not appear on it. Eventually Rod re-joined Baldry in a more contemporary outfit called Steampacket, which included Julie Driscoll and Brian Auger with Micky Waller on drums. Sadly, as all the members were committed to individual recording contracts at the time, they never released any records, although they did record an album of demos which emerged on the French BYG label just after Rod made it big with Maggie May. When Steampacket were fired up, they were a fine band. Their live shows and their several appearances on Ready Steady Go! earned them a good reputation. They started with the aim of creating the kind of excitement associated with gospel music, but also to introduce more refined musical influences like jazz and ballads. The band was formed in June 1965 and managed by Giorgio Gomelsky who also worked for the Yardbirds. In July 1965 they supported the Rolling Stones and the Walker Brothers on a national tour, ending at the London Palladium. The Stones audience would go hysterical, it was big-time and Rod was impressed, vowing that one day he too would be screamed for!

At the end of 1965 still touring Britain with Steampacket, Rod made a second solo single, this time for Columbia. The Day Will Come was written by Barry Mason and was blatant pop, but still failed to chart. It was also around this time that ITV screened a documentary titled 'Rod The Mod'. Amongst other things, it featured Steampacket travelling around the country in their little van on their way to gigs and Rod on the football pitch! My own attempts to dig up this much sought after film have so far failed and I did try some of the countries top archivists whilst researching my book, The Visual Documentary for Omnibus. However, the television exposure did not do Rod much good as neither The Day Will Come or Shake released a few months later, sold more than a handful of copies. Rod was still recovering from the disappointment when, he claims, he was fired from Steampacket, apparently to save money! According to Brian Auger, however, Rod walked out. Furthermore, Baldry's career was starting to turn into the self-destroying cabaret, variety TV show circle that did not entirely unbefit Baldry, who can be suave as Julio Iglesias, but hardly did justice to his early attempts to establish blues in Britain.

After Rod had parted company with Steampacket he immediately took up with Peter B's Looners (aka the Peter B's). The group included Peter Bardens on organ, Mick Parker on guitar, Dave Ambrose on bass and Mick Fleetwood on drums, modelling itself on Booker T and the MGs. Peter Green replaced Parker in time for their lone single 'If You Want To Be Happy' (which did not feature Rod) and its failure probably prompted the formation of the Shotgun Express, especially as Rod's own single Shake had similarly disappeared. Rod assumed vocals and Beryl Marsden, who'd previously issued several records on both Decca and EMI, was added as a second singer. The band formed in May 1966 and consciously attempted to re-create some of the excitement of Steampacket playing soul classics such as 'Knock On Wood', 'In The Midnight Hour', and 'Hold On I'm Coming'.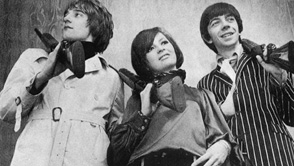 Recording contracts having expired and taken care of Shotgun Express recorded a single I Could Feel The Whole World Turn Round Underneath Me which was released in October 1966. The single mixed the R&B of their live act with a carefully arranged original song, with its precise vocals and orchestration. When the record was released, Peter Green had already left to join John Mayall and was replaced by John Mooreshead. There was yet a further lead guitar change at the end of the year when Phil Sawyer came in over John Mooreshead. If Steampacket was short lived as a band, melting away into Brian Auger's Trinity and Julie Driscoll, then Shotgun Express lasted no time at all, leaving Rod to make his own way. After the break up of Shotgun Express Rod didn't have a clue what he was going to do. He'd heard rumours that Jeff Beck was interested in him for a new band he was forming and eventually the two met and decided to rehearse. Beck proved to be Rod's saviour, he picked up on him, knitted him into a group that spearheaded the second English invasion of America, this time a 'heavy' onslaught, and by revealing him to the vast American market tightened his style considerably. Truth and Beck Ola are fine albums and remain to this day great influences on HM music. The Beck Group toured the States to phenomenal response and it is a pity that English media at that point in time were unwilling to accept reports of that success.

The Beck Group had several different line-ups during its short life. Rod and Beck first rehearsed with Jet Harris from the Shadows on bass and Viv Prince on drums, who went on to join the Pretty Things. Beck realised it wasn't a great line-up and quickly replaced Harris with Ron Wood and Prince with future Blue Mink drummer, Roger Cook. But Cook didn't last long either and the band soon found themselves with their third drummer, Rod Coons. This line up rehearsed several times before starting a package tour with the Small Faces. The opening night at the Finsbury Park Astoria on 3 March 1967 was a disaster, mainly thanks to a power failure which Rod swears to this day was instigated by Ian McLagan who was fearful the Beck group would steal the show! A furious Jeff Beck stormed off the stage, immediately sacked Coons and announced he was pulling the group out of the tour. Months of silence followed.

When the band eventually got back together, Aynsley Dunbar had joined on drums. Dunbar stayed for seven months before walking out due to musical differences. He apparently didn't feel the band were playing the blues and quit after a concert at the Saville Theatre in London at the height of flower power, when the band came on in flowers and caftans. Rod speaks highly of Dunbar and credits him with holding the band together. The exit left the door open for Rod's pal Micky Waller to join and complete the bands best and longest lasting line-up.

Meanwhile, under the guise of Mickie Most, Beck recorded two singles Tally Man and Love Is Blue. Rod couldn't understand it and considered it criminal for a guitar player of Beck's stature to make such records. Love Is Blue was particularly horrible - the sort of Eurovision song contest nonsense that accompanied the test card on the BBC in the sixties.
| | |
| --- | --- |
| | |
| | Photo: Chris Walter - photofeatures.com |
| | |
What was Beck thinking of? Of course, the idea wasn't Beck's, but producer Mickie Most's, who was determined to thrust Beck to teeny bop stardom via hit 45's. However, Most soon aborted his efforts after he travelled to the States to watch the Beck Group in concert. Amazed at what he saw, he became more lenient as to which material they recorded. Most was, in any case, never bothered what went on the B-sides of singles, and consequently they were much better. I've Been Drinking Again featured Nicky Hopkins and Madeline Bell, whilst Rock My Plimsoul became the groups anthem.

Whilst still in the group Rod cut two more singles, although one of them, Come Home Baby a duet with P P Arnold, was never released. The one which was, Little Missunderstood is a classic. Written by Mike D'abo, Rod wrenches his guts out, but you can feel him holding back, so that it's as intense as Otis Redding's 'I've Been Loving You Too Long' and doesn't lose its natural ballad feel. For Rod's managers, Little Missunderstood seemed the answer to their prayers. If they had any enduring criticism of Rod, it was his constant refusal to record anything he considered commercial, a failing which dated back all the way to the songs he rejected at his first ever recording session for Decca. And when Rod got it into his head that a song was so inclined, that was inevitably the end of it. Little Missunderstood had been written for Chris Farlow but the record company had felt it was more suitable for Rod. The record was released in March 1968 and ignored - just 263 copies were sold in the UK!

The magnificent Truth album was released during the bands first American tour and peaked at No. 15 on the Billboard charts staying in the listings for a lengthy 33 weeks! It was Rod's first taste of chart success and his first experience of large scale critical acclaim. In concert, the Beck Group were going down a storm in the USA and playing to audiences of several thousand at a time. Back in Britain, Rod had only been accustomed to singing in front of eight hundred people at a time and initially found it nerve racking.

As successful as Truth was, Beck insists it was just thrown together and even included a couple of filler tracks just to make it a reasonable length. Rod held the album in higher esteem, though he agreed that the band just went into the studio and bashed down a load of tracks that they'd been playing for almost a year. Even so, the album came nowhere near realising the pure amazement of their live gigs during 1968.

Towards the end of the year, Nicky Hopkins decided to go out on the road with a band, and chose Beck's in preference to Led Zeppelin who had apparently offered him more money. Then almost a day before another American tour in February 1969, Beck fired Wood and Waller claiming their playing had deteriorated. This happened at the time Beck-Ola was being recorded and came as a shock to Rod, who suspected that Beck was behind Wood's removal and that Hopkins had pushed for Waller to go. Beck was apparently a little jealous of the camaraderie Rod and Wood had built up between them and the word is that this was Beck's way of forcing the two apart. In March, 1969, Beck, Stewart and Hopkins flew to the States to pick up the partly cancelled tour and took with them two replacements - drummer Tony Newman and an Australian bass player called Douglas Blake. After one gig in Virginia, Blake was sacked and Ronnie Wood re-hired and flown over. By this time Wood was fed up with Beck's moods and from that time onwards used the group purely as filler while he looked for something else.

Beck Ola was released just as the group was finally disintegrating. This was the first record to acknowledge that it was a group, rather than just Jeff Beck. The album was patchy and couldn't touch its predecessor. A factor that didn't stop it peaking on the American charts at No. 15 and becoming the bands one and only UK chart entry making No. 39. Apparently, the group was under the impression that a rock 'n roll revival was about to sweep America and cut the appropriate songs, hence Jailhouse Rock and All Shook Up.

When the group split, Rod was worried about a number of things, particularly management and his future in music. Ron Wood had gone, which really upset him as they were getting some nice things together. Meanwhile, Beck's plan was to form a band with Rod, Carmine Appice (who would later join Rod's first post-Faces band) and Tim Bogart (who Rod would later use in the studio) from the Vanilla Fudge. The idea never really appealed to Rod and he and Beck simply drifted apart.

Although Rod admired Beck tremendously as a musician, the group was a disaster socially. Rod admitted that in the two and a half years he was with the band, he never once looked Beck in the eye. He always looked at his shirt or something. However, it was whilst with Jeff Beck that Rod first started to write and he has since said that it was the combined experience of writing, producing and singing his own material that really brought him together and gave him confidence - the bulk of An Old Raincoat Won't Ever Let You Down had been recorded whilst Rod was still officially a member of the Beck Group. In reality, however, he was well on his way to becoming a Face. During the early summer of 1969 Ron Wood started to rehearse with Ronnie Lane, Ian McLagan and Kenny Jones. It was fun, but all four of them knew something was missing. Ron Wood took the initiative and invited Rod to listen to some rehearsals. Rod started to turn up regularly at rehearsals and knew it was a matter of time before they would invite him to join.


| | |
| --- | --- |
| | |
| | Photo: Chris Walter - photofeatures.com |
| | |
The bands first gig was played under the name of Quiet Melon at Cambridge University. Ron had asked his brother Art along to sing and there was no time to rehearse, so they got by playing old standards such as 'I Got My Mojo Working'. During a second college date in Surrey, the band met Long John Baldry and Jimmy Horowitz and Art lured the whole lot into the studio to record. The results would not see the light of day for some 26 years, being finally released at the end of 1995. The positive experience with Quiet Melon encouraged the boys to give the band some solid framework. They needed a manager and found Billy Gaff who soon touted them around every record company he could. Track and Apple were keen in the beginning, but backed off as soon as the legal situation concerning Rod's solo career became apparent. Eventually Warner Brothers signed the band. Conditions for the group were not favourable though. The label insisted on keeping the well-established band name and suggestions of Slim Chance were thrown out. Quiet Melon had been a temporary name and eventually they decided to drop the Small tag and become simply the Faces.

Next they had to resolve the Rod Stewart problem. With Rod having almost completed his first solo album, Kenny Jones invited Rod to join the band over a drink in a pub called The Spaniard on Hampstead Heath. At last, after months of not really being sure, Rod was an official member of the Faces. The date was 18 September 1969.

Just after the completion of An Old Raincoat Won't Ever Let You Down, the British music paper Disc confirmed that Rod had officially joined the remnants of the Small Faces along with Ronnie Wood. The Faces debut album, recorded during December 1969, appeared in the UK on 21 March 1970 and was aptly titled First Step. And that's where we leave the sixties and enter the decade in which Rod finally became a world famous singer and superstar.