MORE NEWS:
FEATURE:
Faces Box Set
The long awaited Faces box set is slated for release in November.
posted by Ian Roberts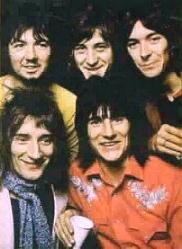 Thanks to the hard work and patience of Ian 'Mac' McLagan the long-overdue Faces 4CD box set will be in the stores on November 1st. This was not only the exact date Faces signed with Warner Bros records back in 1969 but the very same date of the last ever Faces gig in 1975 at the Minneapolis Labor Temple.
It will include an 80 page booklet with new photos of the group and never before heard stories. The project will feature every recorded studio track by the group along with radio and 'live' performances and some very special, never previously heard tracks and rarities.

Mac ran a competition on his website macspages.com giving fans a chance to name the title of the box set and the eventual winning title was........


"Five Guys Walk Into A Bar".
---