MORE NEWS:
FEATURE:
Woody rolls with the Stones.
Secret 'warm-up' gig in Canada.
posted by Ian Roberts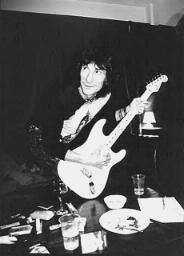 As secrets go, it's probably the worst kept one in town.
Hundreds of fans began lining up overnight for an unannounced performance by the Rolling Stones, with some coming from as far away as Maryland and Ohio to see the legendary rockers after hearing rumours about the show.
The fans were afforded quick glimpses of Woody and the boys as they slipped into the Palais Royale ballroom, Toronto for the show on Friday 16th August.
The band has been rehearsing, under tight security, at a Toronto school for their upcoming world tour.
The Stones traditionally play at a small club at the end of their Toronto rehearsals and the first lucky 1,000 fans gained entry for only C$10 on Friday night.


The world tour -- their first in three years -- begins in Boston on Sept. 3. The tour is also 40 years after the band staged its first public performance at London's Marquee Club in 1962, although the band had a different line-up then.

---