MORE NEWS:
FEATURE:
Rhythm and no booze for Woody.
Ronnie stone cold sober on tour.
posted by Ian Roberts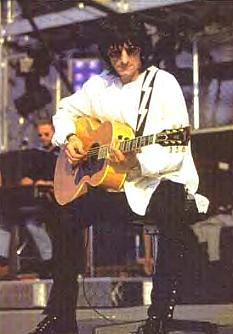 Rolling Stone guitarist Ronnie Wood has just been introduced to a totally
new experience after 27 years in the band - playing a gig sober.

The former Faces star has sought to battle his alcoholism in recent months,
and when the Stones played a warm-up gig for the upcoming world tour at
Toronto, Canada's Palais Royale venue on August 16, Wood reveals it was the
first time since joining the rockers in 1976 he's been in full charge of his
faculties while on stage - and he enjoyed the experience.

He says, "That was my first night that I'd done straight, and it was a real
eye-opener. I noticed the lack of anxiousness, having to have another drink
before I go on to bury the butterflies. And I was noticing things in the
audience for a change, instead of blindly playing away."

And the musician is determined to maintain his no-booze rule for the
band's trip around the globe.

"I'm always confident, but this time I'm even more confident because I'm
looking at life through a straight viewpoint now. I'm still struggling after
six months, but I just take it a day at a time," he says.

"None of us is getting any younger, and I thought, I've had a damn good
innings at burning the candle at both ends, I'll just try doing what's good
for me and seeing what a natural high is like. It's unbeatable really, if
you can hold it down. It takes a lot of courage and commitment."
---