MORE NEWS:
FEATURE:
Interview with Conrad Korsch
I've never worked with anyone who puts as much physical energy into a show as Rod, not to mention singing his "bollocks" off!
posted by Thomas Stadelmann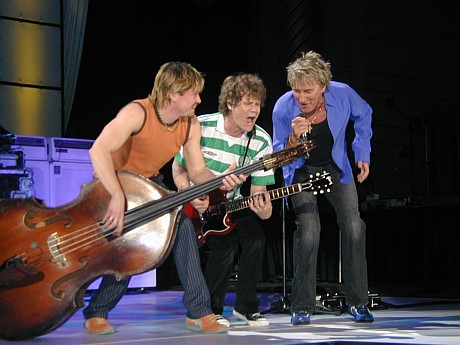 SMILER: Conrad how did you land the job with Rod Stewart?

When the first "American Songbook" CD came out, the record label decided to put a new band together to do TV promo for the album, since it was stylistically such a departure from the music that Rod's current band was playing at the time. They contacted Jill Dell'Abate, a contractor who works with Phil Ramone (who produced 1/2 of the record), who in turn hired Shawn Pelton (who played drums on some of the record). I'd worked with Shawn in the Saturday Night Live House Band and in many other musical situations, and when she said she needed a bassist, both he and John Leventhal (another producer that Jill contracts for) recommended me, and she hired me based on their word.


SMILER: You have been apart of Rod's touring band since 2004 when you replaced Carmine Rojas but is it true the first time you played bass with Rod was on the American Songbook show at the Sony Studios in 2002 where you just played on the Songbook tracks?

My very first show was actually 3 weeks before that when we performed on the Tonight Show with Jay Leno, but the Sony Studios show (which was made into a DVD) was part of that whole first promo run. Since the rock band and the "American Songbook" band were still 2 different groups at that time, I only played on the American Songbook stuff, playing only upright bass. I never played a single note with Rod on electric bass for the whole first year that I worked with him. It wasn't until TV promo for the 2nd American Songbook record that I began to play electric bass with Rod, playing some of his rock classics in addition to the material from the new album.


SMILER: Carmine Rojas was Rod's bass player from 1988/2002 where he played on most album tracks & even co-wrote some songs with Rod. Was he a big act to follow?

Of course. He was such a strong presence in the band for so long, and was (is) loved and embraced by the fans and all of the people that work with Rod. If not for the huge success of the American Songbook records and subsequent tours requiring the bassist to "double" on upright bass, I'm sure he would still be in the band.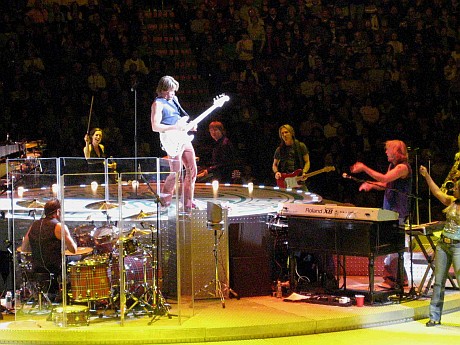 SMILER: How do you find Rod's audiences compared to other artists/bands you have worked with are they more reserved or do you find there more active?

I would say they are definitely more active, but I think that's got a lot to do with the artist himself! Rod is a tireless performer, and really commits to making sure that people have a party. I've never worked with anyone who puts as much physical energy into a show as Rod, not to mention singing his "bollocks" off! I'm always reminded of his ability to get a crowd going when we do festivals with many other acts: Thousands of people will stand out in the sun all day, drinking alcohol and listening to a dozen bands. We finally take the stage at 11pm when the audience is exhausted, and then BANG, he goes into his performance and the whole audience just comes to life. You can really feel the energy jump up several levels.


SMILER: Apart from Rod Stewart & Andrea Bocelli what other artist/bands have you worked with either on tour or in the studio?

I'm thankful to have worked with a lot of great artists and musicians, many of whom the general public may never get to know or hear because of the way the business works. Some of the well-known artisits I've been very fortunate to work with are Carly Simon, Bette Midler, Carole King, Gavin Degraw, Joan Osborne, Marc Cohn, Roseanne Cash, Clay Aiken, Madeleine Peyroux, Deborah Gibson, Blood Sweat and Tears, Manhattan Transfer, Delta Goodrem, Frankie Avalon/Fabian/Bobby Rydell, The Fifth Dimension, David Krakauer's "Klezmer Madness", Lainie Kazan, MOJO MANCINI, The Birdland Big Band, several broadway shows, including an onstage part in "Swing!", Jingles/TV commercials for dozens of major companies, and roughly 2-3 zillion jazz gigs. I also appear (playing bass, of course!) in 3 major motion pictures, which I think is pretty funny. They are: "Maid In Manhattan", "Music and Lyrics", and "Across the Universe".


SMILER: As I'm sure you know there's talk of the Faces reforming with the possibility of a tour & maybe an album. Would you consider playing bass in place of the late great Ronnie Lane should you be asked?

Um, let me think about this one…….YES!!!!!!!!!!!!!!!!!!


SMILER: You have been touring with this current Greatest Hits tour since January 2007 when it opened in the US. Now you are due to start the 2nd leg of the US tour on August 1st. Have you started rehearsing & what songs can our US member expect to see in the set?

This is still part of the "Rocks His Greatest Hits" tour, so it is essentially all the songs fans know and love and can sing along to. We'll be performing in a lot of "sheds" (outdoor venues) since it is a summer tour.


SMILER: Whilst you where growing up & learning your musical instruments who where you idols & do you still listen to them now?

I studied piano for about 10 years before I switched to electric bass and then eventually upright bass. When I started playing electric bass, I would pick out a lot of Led Zeppelin, The Who, Rush, and any other "bass-heavy" stuff I could get my hands on. Then I eventually got into the funk thing with James Brown, The Meters, Brothers Johnson, etc. While I was in college doing my Jazz Bass Performance Degree I became more interested in upright and electric jazz bass players in groups with Miles Davis, John Coltrane, Chick Corea, Charles Mingus, Charlie Haden, Weather Report, etc.etc. There are so many great players and great music is timeless, so I still do enjoy listening to all that stuff.


SMILER: What is your favourite Rod song that features in the live set?

Stay With Me!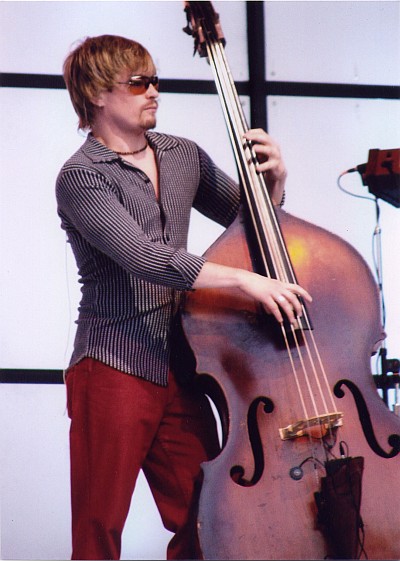 SMILER: What would you say is your personal highlight in your musical career so far?

Man, that's a tough one. One of them would definitely be when we performed in the "Concert For Diana" last year at Wembley Stadium. It was a great day and the energy was amazing. There were so many heavyweights performing, but nobody had any ego…it was all for a good cause and everyone was excited to be there. Another highlight was opening for one of my idols, Stanley Clarke, at the Academy of Music in my hometown of Philadelphia when I was 20 years old. About 15 years later I played the 150th Anniversary Gala there with Rod and met Prince Charles, who was the guest of honor! Playing in the house band on the TV show Saturday Night Live was also amazing, after having seen the show nearly every week for most of my life.


SMILER: Where can SMILER members catch up on the latest news on you with? Do you have a website?

I do: http://www.conradkorsch.com and I also have a myspace page: http://www.myspace.com/conradkorsch - I'm excited to say that I'm just finishing my own self-produced "singer-songwriter" CD, which will be available this Fall. Please check my myspace page for updates, and send a "friend request" so we can stay in touch!


SMILER: From SMILER & Myself we would like to thank you for talking the time to do this interview & we wish you all the very on the US leg of the tour & for the future.

My pleasure! See you on the road!


Conrad Korsch was interviewed by Dave Reddy on July 14th 2008.

---