MORE NEWS:
FEATURE:
Move me: Gary O'Connor interview
SMILER puts Rod's Health and Fitness instructor through his paces.
posted by Thomas Stadelmann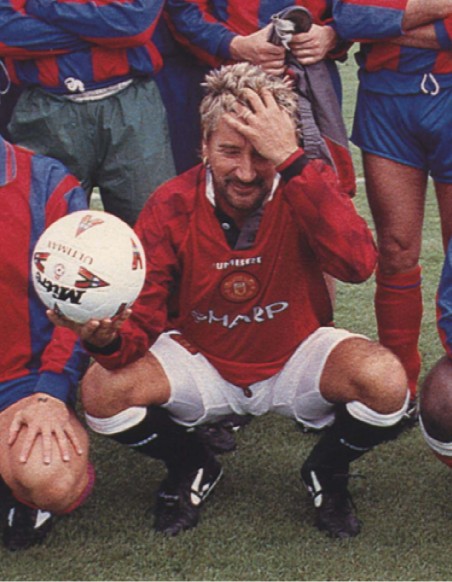 Gary O'Connor has been involved in the health and fitness industry for over 30 years and is presently working as Rod's personal trainer.

He started out as an exercise instructor and progressed, via health and leisure management, through to gymnasium management.

He has worked extensively in specialised exercise prescription for medical conditions such as obesity, hypertension, diabetes and stress and lifestyle management and also specialised in cardiac rehabilitation gaining experience by working within the UK's leading cardiac centre Papworth Hospital in Cambridgeshire.

SMILER caught up with Gary as Rods successful North American tour came to an end and Gary was about to accompany Rod on his trip to The South of France.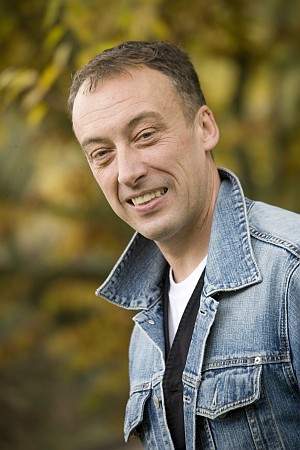 SMILER: What does your job with Rod entail?

Wow tough first question!

My job with Rod has evolved a lot since I first started with him. Initially I was his fitness trainer and worked to keep him in shape to enable him to continue his football passion (nearly called it soccer…. been in USA to long!). Now the job has evolved into a comprehensive role that involves keeping him fit for his hectic tour schedule, and I now also manage his health and wellness.

To do this we carry a comprehensive health and fitness monitoring kit with us at all times, which enables me to take various tests and assessments for example; blood pressure, lung function ecg measurement, blood tests, body composition etc. I analysis this data on with the aid of a specialised computer program…. It's as simple as that!!


SMILER: How long have you worked with Rod and do you work full time or part time?

I have worked for Rod for nearly 10 years!!

Firstly mainly part time as personal trainer when he was based in Epping, with the occasional trip to Europe when I was talked into it (wasn't difficult). Then he offered me a full time position in 2002 as his trainer for the world tour and I have been with him ever since.


SMILER: How did you get such a high profile job?

Well I think a lot of life's opportunity come at us when we least expect them.

I was manager of a fitness studio in Epping, and Rod was a user of my gym on his visits to the UK to his home in Epping. He always used to be accompanied on these visits by his American trainer.

On one occasion his trainer was unable to come and Rods personal assistant asked if I would be able to continue his training during this visit… which of course I did. I must have done a good job because on all future visits he asked me to train him.

Then, to cut a long story short, he asked me if I would consider joining him full time and here I am!!!


SMILER: When Rod is on tour, what does his daily fitness regime consist of?

Being on tour presents many different challenges to maintaining Rods fitness.

Issues such as continually changing faculties depending were we are based in the world, the drain of extensive travelling, the physical toll of a hectic tour schedule, his recovery requirements etc. basically when on tour we are concentrating on maintaining fitness and encouraging regular recovery regeneration periods.

We also work extensively on pre-habilitation i.e. dealing with physical issues before they become problems.


SMILER: British boxing champion Ricky Hatton goes on a strict diet and fitness schedule when he is training for a fight, but as soon as the fight is over he goes back to fry ups for breakfast, fish and chips and plenty of Guinness, and putting a couple of stone back on, would this kind of lifestyle work for Rod? And if you were Ricky's instructor would you advise him against doing it?

I really can't agree with Ricky Hatton's life style, but of course it works for him!!

This lifestyle would most certainly not work for Rod for a number of reasons. Firstly, Rod is very dedicated to his health and fitness and works hard to stay close to his optimum best condition. Also his tour schedule alone is so variable and intensive that he requires to be in shape at all times in order to be able to maintain such a schedule. A boxer prepares for perhaps 2 big fights in a year and so the situation is so different.

If I were Ricky's trainer my advice would be based on the following issues. An athlete's career is relatively short in terms of a life time, and therefore being in a position to make the most success of that career I think that sacrificing certain issues has got to be worth it. As an athlete he is blessed with certain skills, fitness and athleticism that I feel should be nurtured and developed as much as possible.

Finally, I would always encourage him that by keeping himself in the best condition he is doing everything possible to have the most successful career and never needs to look back and think would I have been more successful if I had paid more attention to my lifestyle. (Just my opinion. !!)


SMILER: How are Rods' knee problems doing? Have you managed to get him playing football again yet?

Well another tough question... Rods knees are the best they are going to be, considering the high physical demands he expects of them!!!

Remember, Rod could well have been a professional footballer if he had not chosen the path of rock legend!! (Huh, gifted in two areas!) There fore he has played football all his life at a very good and competitive level, and as any athlete knows this comes with costs.

Rod has had numerous knee operations on both knees but he is a great healer and very dedicated to rehabilitation. And between us we have worked very hard to return him to the very best fitness each time. I stay current with the latest techniques in the industry and we just work hard at it!!

He has been rewarded with being able to continue playing albeit at a lower level and intensity. Remembering his passion in life is also performing which he aims to continue enthusiastically!!!!


SMILER: Rod is 63 now but has the looks and the body of a much younger man, what age would you put his fitness levels at if you were comparing him to an average man?

Yes Rod is 63 and to be perfectly honest I aspire to be as fit as him when I reach that age!!!

But in all honesty he is in excellent shape considering his life time of football and surviving rock and roll I would certainly gauge his fitness that of some one late forties/ early fifties.


SMILER: As a fitness manager you received a lifetime achievement award, what was that given to you for?

Ah my Oscar, yes (if only)! No, seriously, I worked in health and leisure for a local authority and during that time introduced ground breaking services for the community including an exercise referral scheme that linked all doctors' surgeries in the district encouraging them to right prescriptions for exercise to manage conditions such as hypertension, diabetes and obesity. As part of there primary care remit, the system we developed went on to become a standard across the county.
I was also recognised for developing the health and fitness centre gymnasium to a cutting edge standard that was instated as standard at all gyms in the district.

I also was commended for pushing my staff to achieve to the very best of their abilities some thing that I am most proud of… that's it really.


SMILER: What is the most rewarding part of your career so far?

I think I always have to pinch my self to realise that at the end of the day I have worked for perhaps the pre-eminent legendary rock performer of our time and to have been chosen to do this is my greatest privilege and reward.


SMILER: Are you a football fan? If so, what team do you support?

Yes I am but not as enthusiastically as when I was younger.

I support Manchester United, a fact that needs to be kept quiet at times if you know what I mean!!!!


SMILER: Were you a fan of Rod's music before you met Rod and if not are you now?

I think it's amazing that most people even if they don't consider themselves fans are aware of a song that they hold dear and enjoy - be they young or a little older!!

His music is timeless and evocative of times of our life and yes I listened to his music (the pink greatest hits album).


SMILER: What do you do work wise when Rods tour ends?

I am with Rod at all times and my base or were I call home is Los Angeles.

When we are not touring it gives me an opportunity to diversify his work out program and introduce more challenges because as we all know exercise can be boring----yes it's ok to say that!!! So I have to keep him keen and inspired as it keeps me employed!!!


SMILER: Rods wife, Penny, is a qualified fitness instructor. Do you ever swap notes?

Yes we do sometimes but she is happy for me to provide the lead and motivation leaving here to concentrate on her career and being a busy mother!


SMILER: Career wise, what are your long term plans?

Wow what a question err… well you know the last 8 years have flown past and life on the road is all consuming. But I would like to continue to be the very best trainer that I can be and to build a comfortable life for myself and my girlfriend in America and everything that goes with it ----phew lets move on!


SMILER: To do a job like yours you must be extremely fit. What does an average work out for you consist of?

Well as an instructor I often am doing the work that I am asking of Rod or Penny.

So, for instance, if we are cycling or jogging or doing a CV circuit… so am and so I can indirectly be completing two workouts a day over 5 days… which is enough!!!
No really yes I do like to work out and enjoy lifting weights with my training partner when I can and also spend time developing the exercises that we use. …But that is secret information!!!


SMILER: Well thanks for talking to us Gary. Will we see you on Rod's next UK tour?

Yes, God willing, I will be there. Please come up and say high if you see me… just don't ask me to workout!!!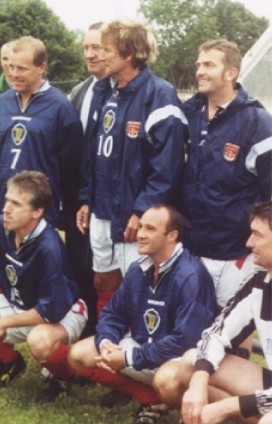 ---