MORE NEWS:
FEATURE:
Katja our very own Horn Star
Exclusive interview with Rodís stunning Sax player plus win a signed copy of her fantastic new album.
posted by Thomas Stadelmann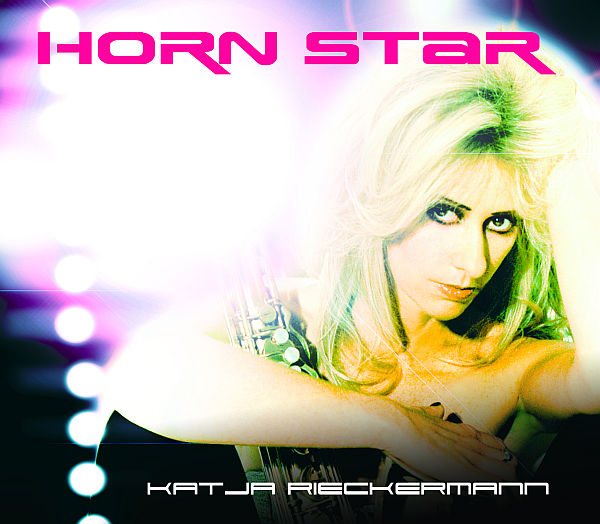 Katja Rieckermann has been a regular in Rodís band for nearly ten years she has become a very popular member with Rodís fans since joining for Rodís Human tour, not only Talented, but attractive and sexy; Katja is our very own "Horn Star."

Born in Luebeck, in the north of Germany, Katja moved to Hollywood to start her career, one of her first high profile performances was with the rock band Scorpions in 1997 and she was eventually cast as a regular on the hit television series "Alley McBeal" and in the feature film Star Trek "Nemesis

In 2001, Katja had the opportunity of a lifetime when she went on the Rodís Human World tour 2001 and 2002. This opportunity gave her the ability to prove herself as a soloist, performing with a super star on an international stage.

In 2007 Katja released her self-titled debut CD, "KATJA." She also established her role as the lead saxophonist in Rodís band.

In 2008 Katja played on Eurythmics Dave Stewartís Songbook, Vol 1 album and followed this with a couple of live performances with his Rock Fabulous Orchestra.

Inspired by her work with big stars, Katja has been working on her 2nd CD for the last 3 years. Sandi Strmljan, an extremely talented musician, songwriter and producer, produced this progressive new project. Together, they created a new sound that combines pop, jazz, dance and electro house with a sophisticated horn section. The name of the project is "Horn Star"

SMILER caught up with Katja while she was touring with Rod on his European tour and talked to her about the tour and her new CD.


Katja live in London, May 29th - Photo: Yve Paige
SMILER: Hi Katja how are you enjoying the tour?
Katja: I am enjoying every moment of it! I really like the set list the way it is at the moment. And the stage and the costumes are beautiful.
The Horn section has been different on this tour are you enjoying working with Jimmy Roberts and Anne King?
I love it. Ever since I have been with Rod in 2001 it was mostly just myself. No section. I really enjoy the sound of the horns. And playing with Jimmy is very inspiring to me. He is a great saxophone player and a lovely person.
Have you had any stand out gigs yet?
Not really. All of the concerts have been really good so far. Most f them sold out, I think. And the crowd has been amazing!
The new Soulbook songs seem to be going down well are they fun to play?
They are a lot of fun to play! Especially for the horns. But the most important thing is that Mr. Stewart seems to really enjoy singing them. Feeling that makes it easy to play.
What is your personal favorite song to play on in the set?
It has always been Baby Jane because it was a huge hit when I grew up. It reminds me of my teenage years.
Do you still have to spend time practising to play as good as you do or does it just come naturally now?
I don't think that playing well comes naturally to any horn player. You always gotta make sure to play a little every day to keep the embouchure strong (the position of the facial muscles around your lips) and the fingers loose. For that I do technical exercises for about one hour a day.
You played in front of the Queen with Rod what was that like and were you nervous?
I was very nervous! She was sitting right in front of me. One time I accidentally looked her right in the eyes and I got terrified! I wasn't sure if that was something that you weren't allowed to do... silly me. It was all good.
Have you played your new album to Rod yet?
I played him my version of Baby Jane a couple of months ago asking for permission to do it that way. He approved. Then, just recently, when I had the finished CD in my hands he was one of the first I gave it to.
Whose idea was it to record a cover of Baby Jane?
My producer Sandi Strmljan and myself.
Rod is helping to promote Horn Star at the gigs is it working with album sales?
Oh, yes! It is amazing that he does that for me and I am so thankful for that.
Do you think some of Rodís fans have become your fans or are people picking up on your music from elsewhere?
Well, I think that most people know me from playing with Rod.
Have you gone different direction with Horn Star to your last album?
Completely different direction. My first CD was light jazz. Horn Star is full on electro house music.
Have you got a favorite track on the album?
Each track has something that I like. I think that the long sax version of Baby Jane came out great. And I am proud of my vocals on it. "Sax you up" has a great groove to it and I really like the horn line in the beginning of the tune. "Moonlight Day Spa" has a really pretty saxophone melody.
Will you be doing any solo gigs to promote the album after the Rod tour ends?
I am hoping so. This genre of music is different though. I am not sure if I will have a full band of maybe just a DJ that I will be performing with. This is new to me, too.
Well thank you very much for talking to us - Good Luck with Horn Star and the rest of the tour! Have you got any message you would like me to pass on to all your friends at SMILER?
You are so very welcome! Thank you for having me! We all have one thing in common: we are all Rod Stewart fans!!!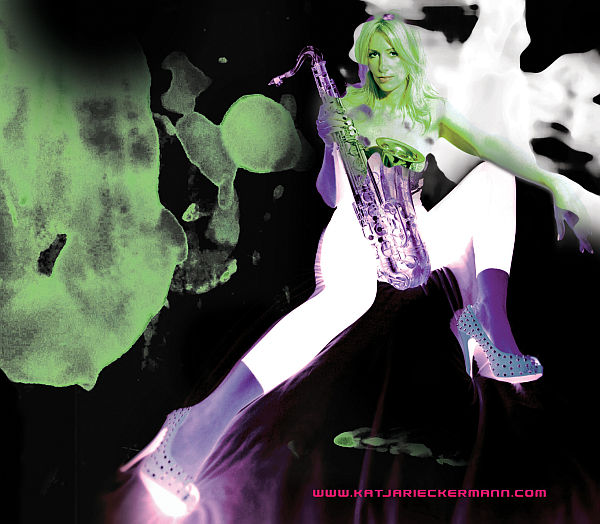 Katja has very kindly given us a couple of signed copies of her new CD Horn Star to give away. If you would like to win one, answer the following questions and send your answer until June 30th to mike.walton@rodstewartfanclub.com with your name and address.

1-WHO WROTE BABY JANE?
2-NAME THE OTHER ROD SONG KATJA HAS RECORDED.

To buy a copy of Katjaís new CD Horn Star go to:

http://www.katjarieckermann.com


Katja Rickermann was interviewed by Mike Walton, June 4th 2010.
---