MORE NEWS:
FEATURE:
Introducing Lorelei McBroom
Lorelei has been touring with amazing artists, such as Pink Floyd or the Rolling Stones - SMILER's Mike Walton talks to Rod's new backing vocalist.
posted by Thomas Stadelmann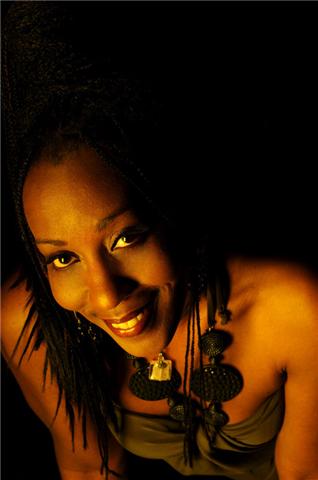 Hi Lorelei, How have the rehearsals been going?
The rehearsals went very well. The girls worked hard to get me ready. I had 30 songs to learn including some very lively dancing. I should be in excellent shape by the end of the tour! LOL.
How are you getting along with the rest of the band?
Very well! Bridget Cady and Di Reed are new to me and they are lovely people. They have a lot of talent as backing vocalists, and we have a great blend and team spirit. It's always good to work in a section with people who enjoy playing off of each other which you'll see us do on stage when we dance. Chuck Kentis (the musical director) did a terrific job putting everything together and I really appreciated his patience with me as a new comer.

The music business tends to be a small world with "6 degrees of separation" as they say! Paul Warren and Don Kirkpatrick (Rod's guitar players) worked with a dear mutual friend of mine, keyboard player Dave Innis (from Nashville hit makers "Restless Heart"). His drummer David Palmer is an old mate of Guy Pratt (Pink Floyd's bass player) who I also worked with when I first hit the road at the beginning of my road career. I also just discovered that Jimmy Roberts (our sax player) knew one of my mentors the late William "Smitty" Smith, one of the worlds greatest keyboards players as well as sax great Trevor Lawrence, who is someone else I recently met here in LA. Katja (Rod's beautiful blond sax player) is a friend of Gunnar Larson (another guitar player friend of mine.)

The whole band is full of seasoned pros and that's always a good thing! No egos, just fun loving great music making!!!
Have you had much time to speak with Rod yet?
Even though we only spent one week in rehearsal with him, Rod was very personable, and accessible. He has a great wit and I told him how much I respect his choices as an artist! The lyrical content of his songs is amazing and I've always been a fan of his soulful voice. His version of "If You Don't Know Me By Now" from his Soul Book CD brings me to tears. I worked on a record with Teddy Pendegrass ("Somewhere I Belong") back in the day, and Rod's cover is brilliant in my opinion. I hope he'll do it on this tour.

Rhythm of my heart - live in Dubai, 07.05.2010 - Photo: Thomas Stadelmann

Has Rod or any band members told you how good at singing the Rod audience is?
I have had the pleasure of hearing mp3s during our rehearsal time of Rod's fans singing back to him. They sounded great and in good pitch too!

Are you looking forward to any particular shows on the tour?
There are several cities I have never been to before and I'm especially excited to go there: Dubai, Tel Aviv, all of Scotland, Lithuania, and Liverpool. Verona is a favorite city for me; it's charming and romantic! I expect all of the UK to be great shows and Rod's band has taught me special songs he does for the UK fans that I've enjoyed. My last name is "McBroom" and I've been told it's Scotch/Irish, so I think the bag pipe sound and marching feel of "Rhythm Of My Heart" strikes a special cord inside for me! I also have great memories of singing in Moscow with Pink Floyd in 1989. They were particularly grateful audiences. I have a lot to look forward to.

You have toured with some amazing people including as we like to call them [The Stones] The Ronnie Wood band - What was that like?
The Rolling Stones are a great bunch of guys! I will always appreciate Mike Jagger for giving me the opportunity to work with them during the absence of Lisa Fischer's (their regular female vocalist). Keith Richard's is a really down to earth man, and he paved the way for me to do great duet's with Mick on "Gimme Shelter" during the London shows. They taught me how to really play to the back of the stadium! Ron Wood (or Woody as we called him) is a very sweet person. He and his wife Jo were always welcoming to me. Bill Wyman really looked out for me. It was his last year with the band and so I feel like I got to be a special part of their history. I also got a chance to perform in their premier Rock N' Roll IMAX film "Rolling Stones At The Max". It is an awesome film! Seeing the show on a 30 foot screen and hearing the music on the big speakers was like being at the concert up close and rockin'!!!

How did you come to join Rodís band?
I was referred to our musical director Chuck Kentis, by one of Rod's management staff. Zoe met me through her former husband, (another band mate of mine Paulie Cerra; a great sax player in his own right!) We'd taken their daughter to Disneyland to see "The Princess and the Frog". She knew about my work with Pink Floyd and The Stones, and said if the need for a new backing vocalist ever became available she'd recommend me. It did, I auditioned and the rest is history! I hope to have the opportunity to remain a part of this band. They are a great bunch of people!

Have you ever seen Rod live?
Yes, at Madison Square Garden in New York some years back! I had really good seats, and I was very impressed. He's got a great live show.

What did you think of Rodís music before you joined the band?
He's always had excellent taste in songs! He writes very well too. As a singer, I look for great lyrics. Rod tells you stories in his songs and that is what great artistry is about. "I Was Only Joking" is one of my many favorite Rod Stewart songs. I also loved the way he made it through the disco era without compromising himself artistically. "Young Turks" really rocks live!

Many British artists from his generation were influenced by Rhythm and Blues, but few are as soulful as Rod. I have spoken to countless singer friends of mine (many of whom are Black) who absolutely love him for that reason! The ability to be soulful is all about the way you convey a feeling; skin color has nothing to do with it!

Who are your personal musical influences?
I have so many! Pink Floyd, Steely Dan, Chaka Khan, Barbra Streisand, Stevie Wonder, Diana Ross, Roberta Flack, Joni Mitchell, Carole King, Leontine Price, Billie Holiday, and Etta James (to name a few). I grew up singing folk music as a young girl. After the Rolling Stones tour, I fronted a band called "The Blue Zone" in Nashville. We were a blues band, and I grew a great deal from that experience as a vocalist.

It's been a challenge for me as an African American singer, because I did not come from gospel roots, and most people expect us all to sing like Aretha Franklin. I went to Unitarian church as a child. My parents were very progressive with us, because they had been raised in very traditional families (Pentecostal and Baptist) and felt we (my sister and I) should not be oppressed by our experience of loving God, but instead that God wants us to celebrate who we are as a reflection of his love. They exposed me to Hindu mediation, Buddhism and Science of Mind; teaching me that God doesn't care how you get to him, just get to him, and what is most important is that you learn (without your ego getting in the way) to love yourself. So I missed out on the gospel choir experience. I remember listening to The Beatles, Chuck Berry, Motown and a lot of Julie Andrew's musicals growing up.

As I said before, when it comes to music and being soulful, you just have to convey a feeling that touches people. That's what I strive to do with my voice.

Thanks for taking time out to speak to us, and we hope you have a brilliant tour.
Thank you. It's been a pleasure to share my point of view and experiences with you and Rod's fans. I can't wait to get on the road!

Lorelei McBroom was interviewed by Mike Walton, April 29th 2010.
---