MORE NEWS:
FEATURE:
Natasha Pearce interview
SMILERís Dave Reddy catches up with Natasha where they speak about life on the road with Rod, Natashaís solo career & life as a mum.
posted by Thomas Stadelmann
SMILER: Natasha you have been in Rodís band since the Human Tour in 2001 how did you land the job with Rod Stewart?

I have been with Rod's band since 2000. I landed the job with Rod Stewart by auditioning for him. My audition was The Late Show with Jay Leno. I guess he really liked me because I'm still here. We have so much fun on the stage together.

SMILER: Have you done any studio work with Rod?

I have done studio work with Rod on one of his album's called Stardust. He was not actually there because he was still trying to finish the album at the time.

SMILER: What is Rod like to work with?

Working with Rod is so much fun. He likes to make a lot of joke's and he knows that I love a good laugh. I guess we are both a bit silly sometimes. He really loves his craft of performing and singing as do I. Working with a Legend like him is a wonderful experience that I will never forget.

SMILER: I believe you have done some TV & Movie stuff?

Would you like to tell our members what you have done? I have worked ER, NYPD Blue and Sister to name a few T.V shows. I also did a movie called Drive me Crazy.

SMILER: Apart from Diana Ross & Rod Stewart who else have you worked with your musical career so far?

In my musical career I have worked with John Tesh, Lionel Richie, Celine Dion, Ziggy Marley and Englebert Humperdink to name a few. All wonderful to work with and different styles of music. There are so many thing's I've learned from them all.

SMILER: You have released a couple of solo albums would you like to tell our members about your solo work & do you have any future plans to release more solo work?

My future plans for solo work are in the beginning stages at the moment. Rod keep's me traveling leaving no time to work on my solo project but I'm always happy to be out on the road with him and the band. I will keep everyone informed of a new album in the future. Hopefully my fans will enjoy my music as well and support me and buy the album when it comes out.

SMILER: You have taken some time out recently from Rodís latest world tour because you have not long become a mum we at SMILER & our members would like to congratulate you on becoming a mum how you finding life as a mum?

Thank you very much. In the beginning it was a little hard because of those sleepless nights. Now my little girl Keira is getting bigger and so much fun. She is so cute I just want to kiss her all day. The funny thing about her is she likes music. She will stop anything she is doing to listen to music when it's playing.

SMILER: What is your favorite Rod song that features in the live set?

My favorite song that Rod plays in the live set is Young Turks because it has a bit of choreography in it and I love to dance.

SMILER: What would you say is your personal highlights in your musical career so far?

My biggest highlight's in my career so far have been working with so many different people and artists in this business and being able to travel all around the world. A lot of people would love to do that.

SMILER: Whilst you where growing up who were musical influences? & do you still listen to them now?

Growing up my musical influences were Tina Marie, Basia and Aretha Franklin to name a few. My mom played all kinds of music when I was little so I love country, reggae, pop R&B and oldies. Today I still do listen to there music and love to listen to the popular music of new artists as well.

SMILER: Do you play any instruments?

No I do not play any instruments, I did study piano and took up guitar for a while but did not stick with it.

SMILER: Where can SMILER members catch up on the latest news on you? Do you have a website?

My web site is down right now while I am up dating it but I will keep everyone informed of my new website with the latest and current news.

Natasha Pearce was interviewed by Dave Reddy on September 11th 2008.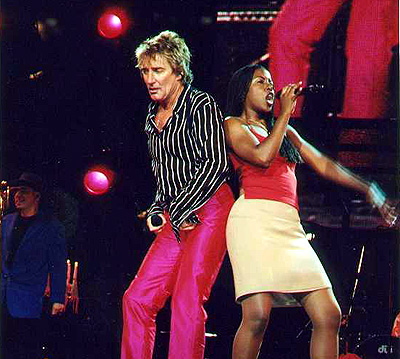 ---