MORE NEWS:
FEATURE:
Ronnie rocks at the Rock and Roll Hall of Fame
Ronnie and Ekaterina attend ceremony in Cleveland, Ohio.
posted by Mike Walton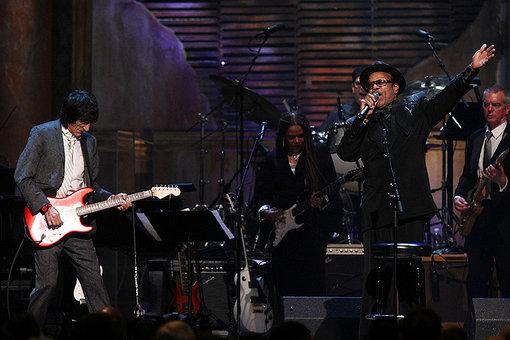 Soul singer Bobby Womack received his key to the Hall from Ronnie Wood at last nights glittering event in Cleveland, Ohio,Ronnie introduced him as 'the voice that has always killed me. He brings me to tears'.

He then recalled a night in New York when he and Womack hid as some Hell's Angels gang members were roughing up Wilson Pickett.

Ronnie later jammed with Bobby Womack and also joined his old mate guitarist Jeff Beck and Jimmy Page for a session onstage.
Tables at the event cost as much as $50,000 each, with another 5,000 fans crowding into the balconies.

Inductees into the Hall Of Fame are picked by 600 voters from a pool of performers, who are eligible 25 years after their first record was released.

Being named to the Hall of Fame is considered a great honour among rock musicians from the 1950s onward.

Ronnie attended with his new girlfriend Ekaterina Ivanova.


---