MORE NEWS:
FEATURE:
Jeff Golub, Subway Horror
Ex-Rod guitarist nearly Killed in Train Collision
posted by Mike Walton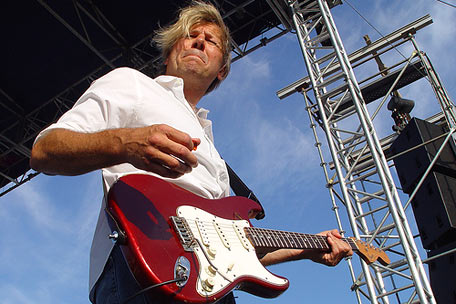 Former Rod Stewart guitarist Jeff Golub narrowly escaped death yesterday when he fell onto the tracks of a New York City subway train.

The New York Post reported that Jeff, who became legally blind in 2011, thought he was entering a train car at the W. 66th and Broadway No. 1 train station, when he fell several feet onto the tracks below.

Golub's guide dog remained on the platform as other teavellers attempted to pull Jeff out of the way of an oncoming train.

"I was thinking about my wife and two boys. I was yelling 'Stop!' I could see the [train's] light coming," he told the New York Post.

Thankfully, Jeff avoided being hit head-on by the train, though he was clipped while leaving the tracks. He was treated at New York-Presbyterian Hospital and later released.

"You try so hard to, like, just do everything, and you can't do everything," he told CBS New York about his blindness, which is due to collapsed optic nerve.

---