MORE NEWS:
FEATURE:
Rod The Mod Part Two
The second part of Dave Allen's Rod stories from Portsmouth in the early 60's
posted by Mike Walton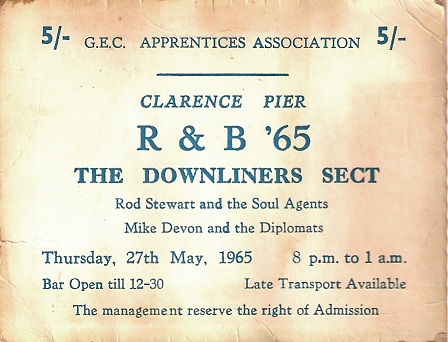 Here is the second part of Dave Allen's stories of Rod's time in Portsmouth in the early 60's,
Dave say's, At one time Rod had slept beatnik-rough around Portsmouth, local people still remember him and as I said last time there is a suggestion that his first solo gig was December 1964 with Hoochie Coochie Men at Portsmouth's Rendezvous Club when LJB didn't show.

As he was a regular around Pompey in the 60s I came across many Rod the Mod stories, Back in November we were chatting with Emmett Hennessy about a gig they did together at the Rendezvous [Oddfellows Hall] And here as promised is Emmett Hennessy's message about himself, Rod Stewart and the gig at the Rendezvous Club (Oddfellows Hall) in December 1964

"Hi Dave, finally getting back to you re- the Rod the mod piece – we were kind of mates before his career took off, pseudo beatniks really, hanging out in the same pubs and doing the bank holiday sleep on the beach at Brighton thing. He actually came across me late one night under Brighton pier, I had a sleeping bag rolled up beside me and he cheekily asked if I wasn't using it, could he? Of course I told him where to go! When I entered the theatre in Portsmouth that afternoon before the show to check it out, it was totally empty save for Rod, alone on stage noodling on the lead guitarist's instrument. (Rod played quite well those days, in fact I copied quite a few things and even bought the exact same guitar he had, (a Levin, his first.) He moaned to me about how Long John Baldry was a no-show and he'd have to do the honors. I subsequently read a reference in his biography of a certain night when that did happen and is down in History as the first time he ever solo'd at a gig. So it seems you guys down there may be an integral part of his career. I've always kicked myself that I actually went to a pub next door during his whole set, wasn't the least bit interested, even though I've subsequently paid top dollar to see him in concert. (In those days it was folk or nothing for me…bit of a music snob at the time). Also, I was chatting up a local bird who was attending the concert and came with me to the pub and who I actually got to drive in all the way back to London in the wee small hours, (with her husband..Damn it!!!) Never quite figured out why, maybe they were looking at me as some kind of "star" even though I wasn't. Sadly and selfishly, as soon as they dropped me off at a folk all-nighter in London, I just dumped them – I regret that now."

I asked Emmett if he was content for me to publish this as he wrote it. Since a good few Pompey people knew Rod in his early days around Pompey his reply and story is very interesting – has Rod really forgotten?

"Feel free to include all on your blog, the latter day meeting with Rod would certainly be the kind of thing I'd like to read to get some kind of insight into what type of people these superstars become and if their fame has affected them at all

(Rod and I) met again briefly about 42 years later in Tobago. I have a pic of that meeting. Since '74 I've been Living in Trinidad and Tobago, (married to a local), working as a radio announcer and started back gigging about 15 years ago, (quite a bit off stuff up on youtube, including a 1964 clip of me and Ray Sone, who went on to Join the Downliners, just type in "beatniks documentary).
Rod was booked to headline the Tobago Jazz festival in Tobago 3 years ago and I was the emcee, I couldn't believe my luck as I had always wanted to reunite. Sadly, the meeting was somewhat disappointing. Even as emcee, I had to jump through hoops just to get a brief audience with him, literally minutes before he took the stage…not the best time for an artist to be distracted. When I introduced myself his first words were, "fuck me, me memory don't go back that far!" I showed him a photo of me as I was then, with the beatnik crowd on Brighton beach, also in the pic was Sue Boffey, his then girlfriend with whom he had his first child, you may have read recently about that daughter. I pointed Sue out, no reaction, probably a bad move on my part.
Anyway, he was cordial, signed "to Emmett, Rod Stewart" on his latest cd I had to hand, ( I came prepared), posed for a pic and he was whisked away. I guess we live in two very different worlds, maybe people come out of the woodwork everywhere he goes! Just one last anecdote which made me smile. Rod often seems to wear a fashion accessory consisting of a fob chain dangling in a loop from his belt, going into his pants pocket, and the first words I heard from him as he emerged from his tent, (drink in hand) was, "'ere, this chain keeps bangin' on me bollocks!" ,
You also mentioned in a recent blog the name of the promoter who booked me, (Ernie Sears). I actually pinched one of the hand painted posters of that gig, with my name above Rod's! I had it on my wall at home for years, God knows what happened to it, maybe I'll write Ernie to send me a copy.

The woman in the picture [below] is the daughter of the Trinidad promoter of the show, she set up my meet – all the best, Emmett"

Dave also told us that the ticket [pictured above] from a gig he went to in May 65'may have been instrumental in the formation of Steam Packet because after performing Rod went across Southsea Common to the new Birdcage Club (Osborne Road) and sat in with Brian Auger Trinity (plus I think Gary Farr whose brother Rikki MC'd ran
the Birdcage)

SMILER would like to thank Dave for sharing these fascinating stories with us and if anyone would like to read more on the Portsmouth music scene in the 60's check out his amazing website
http://www.pompeypop.co.uk/

Dave has also promised to let us know when his Pompey Pop Picture book is printed that will contain the collection [4/5] of unseen Rod photographs due out in the Autumn.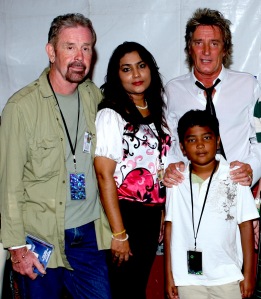 ---