MORE NEWS:
FEATURE:
Rod The Mod's first solo gig?
Rod and his early days in Portsmouth by Dave Allen
posted by Mike Walton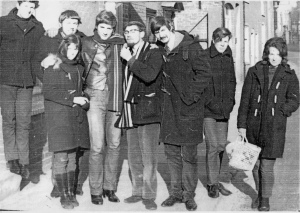 Dave Allen, a one time member of a group called Harlem Speakeasy in 1967/8 who were briefly with Polydor and Chrysalis and after that the group Rosemary in 1969/70 who recorded a single with Chappells but it was never released has researched the Portsmouth Music Scene in the 1960's. Amongst his findings were some fascinating facts about Rod and his early career, Dave has very kindly allowed us to share some of his findings that include a story that Portsmouth might have been the home of Rod's first ever solo gig.

Two of the first people Dave talked to about Rod were David Glass who told Dave
I saw Rod at Portsmouth's Rendezvous Club. He sang with the Hoochie Coochie Men. Long John Baldry was meant to be there, but didn't turn up. The guitarist had mislaid his instrument and had to borrow one from a support band (can't remember who they were), and made some silly remark about what an inferior guitar it was. Another person on the bill was a folk singer called Emmett Hennessy
I went along with a crowd from the North End billiard hall – just along London Road. They were a somewhat macho lot, and I remember it was very wintry and Rod made a rather camp remark about the fact he was wearing a coat because it was a bit cold. The opinion of several in our group was that Rod Stewart was "a poof who couldn't sing, and would never have a hit record".

And Chris Fosbrook who also remembered the night
I remember going to the gig where Rod Stewart, who was Long John Baldry's "featured" singer replaced him for most of the evening as LJB didn't turn up. I remember being quite miffed at not being able to see LJB, but from what I remember Rod put on an excellent blues set and in the end I don't think LJB was missed. Unfortunately I can't remember who else was on the bill.

Dave adds, I'm pretty sure the gig they're referring to came at Christmas 1964. In my "Here Come the 60s" booklet, I wrote, "the Rendezvous celebrated its first rhythm & blues Christmas with Long John Baldry, Rod Stewart, and folk blues artist Emmett Hennessy . I missed the fact that LJB didn't turn up because I took the info from another Rendezvous link.

Dave also tells us he unearthed some photographic evidence of Rod's early days in Pompey the photo above circa 1962/3 shows some of the local beatnik/jazz/CND (etc) crowd – lots of duffle coats, donkey jackets, college scarves and other fashions of that period among certain people. But the guy in the middle is wearing leather and has a rather exotic hairstyle
Well it's Rod (embryonic Mod) Stewart who met up with the Pompey crowd at a jazz festival and spent some time in the city in the early '60s. I've seen a whole collection of photos of him in Southsea/Havant/Portsdown Hill etc and met with some of the local guys from around then,
At present we're going to resist publishing all these pix on the Web as they could be exploited but we're looking at other possibilities.

NB the poster which shows Long John Baldry and also Jimmy Powell – Rod Stewart was a member of JP & the Five Dimensions who were the subject of much local newspaper correspondence about the authenticity of white British blues singers – notably from one Pete Boardman who as 'Brady' became the DJ at the Birdcage

Make sure you check out the next installment from Dave when he will tell you the memories of Folk- blues player Emmett Hennessey.. coming very soon!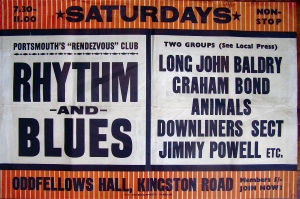 ---