MORE NEWS:
FEATURE:
Faces, Time And Places
Ronnie Wood Art news
posted by Mike Walton
On show at the Only Watch 2011 auction event this year was
this very special version of the Bremont B1 Marine Clock, hand painted by Ronnie Wood on the dial and inside of the clock.
Ronnie attended the auction and spent time after with patron to the Only Watch auction, Price Albert II who was visually impressed by this wonderful and interesting time piece.

Ronnie also announced he is collaborating further with Bremont to create 14 Art Clocks.
He is creating the limited edition bespoke Art Clocks
Using Bremont's B1 Marine Clock, both the dial and internal case of each clock will be hand-painted by him and will depict a different period of his life.


For more information go to http://www.in2watches.com/special-bremont-marine-clock-by-ronnie-wood/

Ronnie Wood "Famous Flames" New Art Exhibition can also be seen at the Castle Gallery, Newcastle
for further information and to view the full collection go to www.castlegalleries.com or go to
http://castlegalleriesnewcastle.blogspot.com/

Ronnie and his new girlfriend Nicola Sargent also attended Ronnie's new exhibition at The Gallery in London last night,
His Faces, Time And Places exhibition, at the Symbolic Collection gallery in Cork Street until Saturday, includes 100 works for sale, collected by American fan Bernie Chase.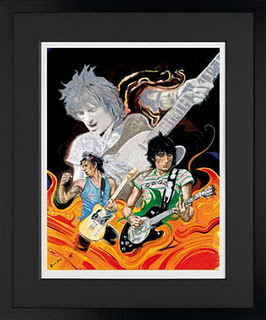 ---