MORE NEWS:
FEATURE:
HBO to Air Rock & Roll Hall of Fame Ceremony
27th Ceremony with The Small Faces/Faces
posted by Mike Walton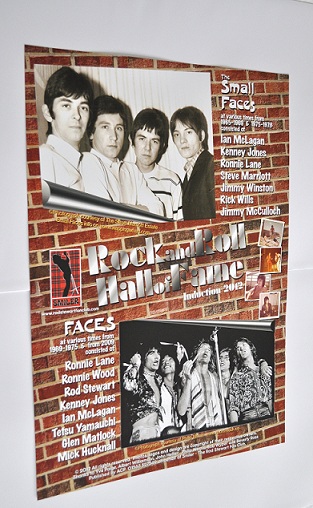 The 27th annual Rock and Roll Hall of Fame Induction Ceremony will take place Saturday, April 14, 2012 in Cleveland and debut on HBO in early May. The 2012 ceremony will again be open to the public, as it was – for the first time in the event's history – at the 2009 inductions in Cleveland.

"We are pleased to announce this year's Hall of Fame inductees, who represent the broad spectrum of artists that define rock and roll," says Joel Peresman, president and CEO of the Rock and Roll Hall of Fame Foundation. "We are also thrilled this year to again be partnered with HBO, who presented the Hall of Fame's 25th Anniversary Concerts."

"Our previous collaboration with the Rock and Roll Hall of Fame was a landmark television event," says Michael Lombardo, president, HBO Programming. "We are delighted to team up with the Hall of Fame again for what should be a memorable evening."

Leading up to the April 14 ceremony, the Rock and Roll Hall of Fame will host more than a week of special events, including the grand opening of the Rock and Roll Hall of Fame's new Library and Archives, tours of the newly-redesigned Museum interior space, the unveiling of a major new exhibition, the Rock My Soul gospel tribute, a free concert for Cleveland and a special series of education programs designed to teach students across the nation about the history and impact of rock and roll. Once open, the Library and Archives will be the world's most comprehensive repository of written and audio-visual materials relating to the history of rock and roll.

The Rock and Roll Hall of Fame officially announced The Small Faces/Faces will be among inductees for 2012

SMILER hopes all fans of the two bands will show support for our boys by displaying one of our fantastic souvenir Art prints, if you have not already got one why not go to http://www.rodstewartfanclub.com/about_rod/article/EFFpllFkZkLzouiFAt.php And order one now!

---