MORE NEWS:
FEATURE:
Matt Beck interview
Dave Reddy catches up with Rod's new band member in this exclusive Interview.
posted by Thomas Stadelmann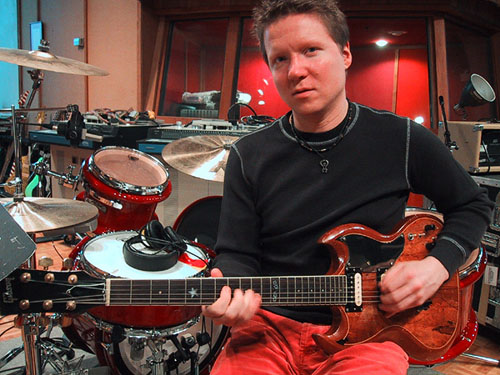 Matt Beck started on piano when he was 5 years old, and at the age of 7, he was one of the youngest students ever to be accepted to The Julliard School of Music (Pre-College program). It wasn't long after that he discovered Rock. At 16 he picked up a guitar and started teaching him self how to play.
Matt says "I've always been left-handed so I didn't think twice about holding the guitar like a lefty. What I didn't realize was that the guitar I was using was right-handed. So I learned to play on a right-handed guitar and just flipped it over and played it left-handed. I didn't realize until much later that most left-handers restring the guitar so that the strings lay the same way, but by that time it was too late. I was already acclimated to my "upside-down" technique. Furthermore, I was coming up with some original voicings and was playing things differently, so I enjoyed the originality of it. I started playing in bands in high-school and was accepted to The Manhattan School of Music soon after. I received a Bachelors of Music Degree in Jazz/Commercial music on guitar".

Dave Reddy catches up with Rod's new band member in this exclusive Interview.


SMILER: Matt how did you land the job with Rod for the 2007 tour?

I was hired by the Keyboardist/Musical Director Chuck Kentis from a recommendation from Conrad Korsch (bassist).


SMILER: How are you finding the tour so far?

It's been amazing. Having the opportunity to play along side one of the greatest voices of our time is truly an honor. I'm learning so much from Rod.


SMILER: How do you find Rod's audiences compared to other artists/bands you have worked with are they more reserved or do you find there more active?

I think it really depends on the audience and where you are in the world. One thing I've noticed though there is a lot of life-long, die-hard, dedicated fans. (many of whom I'm sure are part of Smiler) It's amazing to see these people who I can tell have been a fan of Rod's their whole life. They've passed it down to their kids and you see a lot of fathers and sons, mothers and daughters and whole families. There aren't too many artists that can say they've got that much cross appeal and have had life-long fans like Rod does.


SMILER: Apart from Rod Stewart what other artist/bands have you worked with either on tour or in the studio?

I've had the pleasure to have worked with: Matchbox 20, Rob Thomas, Gwen Stefani, Lisa Loeb, and Tracy Bonham to name a few.


SMILER: I know you started playing the piano at the young age of 7 what other instruments do you play?

I'm primarily a guitarist actually, but do a lot of multi-instrumentalist gigs where I play piano as well. I also play mandolin, dobro, lap steel guitar and I sing.


SMILER: For our UK members who have not seen a show on the US tour do you play your other instruments with Rod Stewart?

Yes, aside from playing keyboards on this tour, I'm also playing electric guitar, acoustic guitar and mandolin.


SMILER: When the tour finishes in Europe in the summer has Rod got any plans to carry on the tour in the autumn/winter either in the US or UK?

One hopes, I think there are plans for that, but we'll all know for sure when it gets closer to that time.


SMILER: Whilst you where growing up & learning your musical instruments who where you idols & do you still listen to them now?

On keyboards my influences growing up were Debussy, Chopin, Bill Evans, Benmont Tensch, Keith Emerson, Rick Wakeman and David Sancious to name very few.

On guitar my influences growing up were Jimmy Page, Jimi Hendrix, Eric Clapton, Joe Pass, Pat Martino and Dave Gregory to name very few. Yes, I still listen to them all.


SMILER: What is your favorite Rod song that features in the live set at the moment?

Well, songs come and go in the set and it would be impossible to pick just one. Some of my faves that we do are Every Picture Tells A Story, Handbags and Gladrags, Cut Across Shorty, Gasoline Alley, Ooh La La, Stay With Me and Hot Legs to name a few.


SMILER: What would you say is your personal highlight in your musical career so far?

Performing with Rod Stewart and recording and performing with Matchbox 20/Rob Thomas. Especially the Madison Square Garden shows.


SMILER: Where can SMILER members catch up on the latest news on you Do you have a website?

Yes, I have http://www.mattbeck.com and http://www.myspace.com/mattbecktwenty. There's even a http://www.mattbeck-fans.com that a few fans started.


Matt Beck was interviewed by Dave Reddy on 06/03/07.
---