Rod Stewart - A Spanner In The Works
Released:
1995
Label:
Warner, 45867
Charts:

chart peak

date certified

UK:

4

silver
gold


01.05.1995
01.06.1995


US:

35

gold


06.06.1995

Buy this CD from Amazon.com:
Track listing:
1
Windy Town
Rea

---

2
The Downtown Lights
Buchanan

---

3
Leave Virginia Alone
Petty

---

4
Sweetheart Like You
Dylan

---

5
This
Jordan, Capek

---

6
Lady Luck
Stewart, Golub, Savigar, Rojas

---

7
You're The Star
Livsey, Lyle, Miller

---

8
Muddy, Sam And Otis
Stewart, Savigar

---

9
Hang On St. Christopher
Waits

---

10
Delicious
Stewart, Taylor, Le?Mesurier

---

11
Soothe Me
Cooke

---

12
Purple Heather
Trad. Arr. Stewart

---
Details: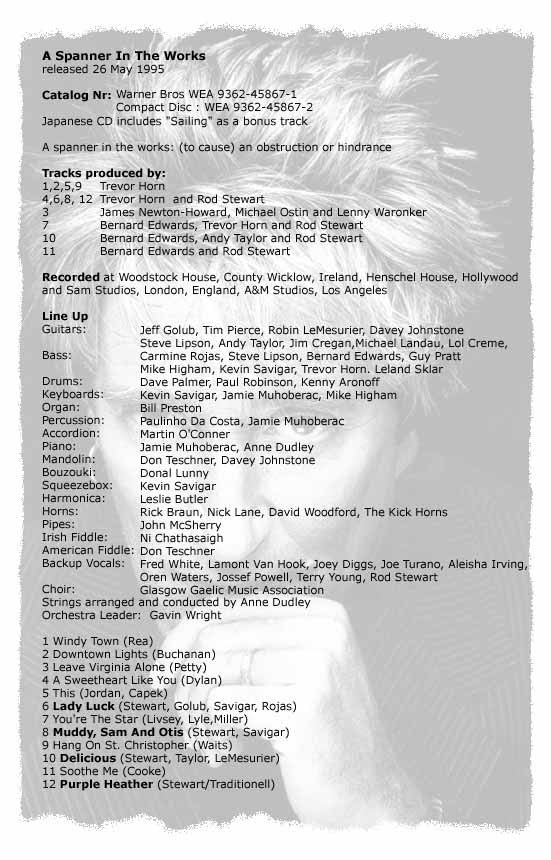 Reviews:
IT HAS been four long years since 'Vagabond Heart' and a lot has happened in that time. There was 'Lead Vocalist' with its small collection of new recordings, the Brit Awards with that marvellous Faces reunion, the whole wonderful 'Unplugged' episode with Ron Wood and a year long USA tour featuring strings and one Ian McLagan. In addition Rod enjoyed a worldwide No. 1 smash hit with 'All For Love', released several onus"" tracks on single B-sides, recorded a stunning version of Elton's 'Your Song' and fulfilled a lifetimes ambition by recording a duet with Bobby Womack. Talk about no rest for the wicked! So what are we to make of the recently released album 'A Spanner In the Works'? When the editor called me and asked if I would review the new album, it was an offer I could hardly refuse. The chance to listen to Rod's new set almost a month before release date was a dream prospect. OK, the copy sent to me did not have a finalised title or running order, there was no packaging to look at and only sparse details of musicians and writers. But the music was there and what a treat in store...
'Storyteller' was almost the definitive Rod Stewart collection - but not quite. It lacked a Bob Dylan track. The link between Dylan and Stewart was one of the highlights of the Mercury albums, reflecting Stewart's good taste in selecting songs and his great talent at giving a good song an even greater performance. It was with instant pleasure therefore, that the new album came up trumps with the very first track that I listened to, a beautiful version of Dylan's 'Sweetheart Like You' (4 mins. 54 secs.). Looking back, I would pick out 'Every Picture Tells A Story' as the finest Stewart album by far. One of the finest contemporary albums ever, a yardstick to measure everything else by and, of course, the set which put Rod on the road to success. It does, after all, contain his three best songs 'Maggie May', 'Every Picture Tells A Story' and 'Mandolin Wind', as well as two of his best covers 'Reason to Believe' and Dylan's 'Tomorrow is a Long Time'. Having set such a standard so early on I have never expected Rod to equal that performance. What I look for is Rod to continue to produce albums which exhibit his vocal talents, displaying his status as a songwriter and as an interpretative singer par excellence. Has he achieved that with the new album? 'Sweetheart Like You' is a real gem, performed with the simple melodic backing in the vein of 'To Love Somebody'. Rod's vocals excel on this type of song. 'Sweetheart' is right back to the heady days of 1971 in its feel, magnificent in its phrasing and timing, a track to savour and to play and play. A lovely guitar break in the best Jim Cregan style and could it be Mac on the keyboards? It is an absolute joy to hear a Dylan song from Rod again, as ever selecting a rather obscure choice from 1983's 'Infidels' album. As always, he cuts the original to shreds and stamps his trademark all over the performance to make it his best Dylan cover yet.
I have always thought some of Rod's finest efforts are his cover versions. He has widened my musical horizons in much the way that Nick Hornby described in that lengthy Independent on Sunday feature last year. Recently, that broadening of my own musical education has embraced Tom Waits. We have enjoyed 'Downtown Train' and 'Tom Traubert's Blues', two of the best songs Rod has tackled of late. Now we have 'Hang on St. Christopher' (4.05). This is one of Wait's more up-tempo sounds with a driving rhythm, a brass section and bluesy, jazzy piano to boot. Producer Trevor Horm throws in 100 drums (really!) and I advise you to listen to this one loudly! Once again it is an interesting style of song which Rod handles very well. Rob Dickens of WEA deserves a medal for the vision he had in getting Rod singing these songs. All three have been quite different, but classic renditions and they have certainly opened the talent of Tom Waits to a far wider audience than before. Deservedly so, for I believe he must be one of the great songwriters. 'Sweetheart' and 'St. Christopher' illustrate the point that countless articles in the media are now highlighting, that Rod's great talent is stretching that distinctive voice around well chosen songs. The great delight for me is that in 1995 at age 50 Rod can still achieve that better than anyone and with growing critical acclaim for his efforts. But it doesn't end there, this album is full of great songs! Another example is the Tom Petty song 'Leave Virginia Alone' (4.07) a beautiful mid-tempo country rocker with lots of strumming guitars and the odd mandolin included. The song has an infectious chorus line and strolls along in a pleasant melodic way. It is yet another perfect vehicle for Rod to demonstrate his interpretative talents. We could have an interesting single release here and you can imagine the extra dimension the song could take if it is included in the live set. Dylan and two Tom's - evidence that 'A Spanner In the Works' is a quality product.
Two of the most respected UK singer-songwriters on the music scene have songs featured here. Frankie Miller, always a stage favourite, has 'You're The Star' (4.40) and for the first time on one of Rod's albums, a Chris Rea song from his 'New Light Through Old Windows' set called 'Windy Town' (5.12). 'You're The Star' is a slow song, building up in its arrangement with powerful and convincing vocals. There are strings and a lot of backing vocals. It is a magnificent performance, very strong and emotional and was a fine choice for the first UK single which will hopefully benefit Frankie through his current medical problems. I don't know who Frankie Miller wrote the song for, but Rod is surely singing to Rachel in much the same way that he did on 'Have I Told You Lately'. It is not the first time Rod has teamed up with a Frankie Miller song, having co-written a track with him on the 'Every Beat Of My Heart' album in 1986. The intro to 'Windy Town' is firstly an acoustic break described by Rod as ""guitar noodlings"" leading into a solo piano with strings building in the backing before the vocals come through. Again, it is a song full of good lyrics in the sort of style that Rod performs so brilliantly. Chris Rea is a fine lyricist and it is no surprise Rod has chosen one of his songs to cover and 'Windy Town' is one of his finest.
Rod the balladeer has rarely been better featured than on 'Downtown Lights' (6.33) a Blue Nile song recorded three years ago for the potentially brilliant 'Lead Vocalist' album which was so spoilt by the inclusion of the old material. This is one of three songs on 'A Spanner In the Works' which was intended for 'Lead Vocalist' and shows just what a great album that could have been. It is also featured on the latest Annie Lennox album 'Medusa' which must bode well in the royalty stakes for the composer! It is a fine song indeed, with a long instrumental piece leading to the song's conclusion which is high in class. Rod's vocals glide through the changing moods of the song in spectacular form. Another fine ballad is 'This' (5.19) a slow track which takes a number of plays to get into, but the more one listens to it the richer it becomes in quality. The Trevor Horn trademark of a string backing is evident as the song builds to a climax. I remember walking out of a club in Brazil at the end of a show with 'Try a Little Tenderness' playing over the speakers. A similar scene ended the last Wembley Arena show four years ago with 'If Only'. I can imagine a similar scene with 'This' playing as the crowds disperse from the concerts on Rod's current trek. It's a great song style which Rod tackles so effectively, written by Marc Jorden and John Capek whoever they may be. 'Downtown Lights' and 'This' reflect the class that Rod displays when tackling these types of song.
What we have so far is an impressive collection of great versions of great songs, basically what Rod is at his best doing. But Rod is also the songwriter, not only the singer. There are, however, only three self-penned songs on the album, but two of these are amongst Rod's best ever. 'Lady Luck' (4.25) is the 'Maggie May' of the set, a tune you end up humming quite easily, a catchy little number typically Rod in style. It has a Gaelic feel to it with jigging fiddles mixed with mandolins, guitars, and organ in a way that Rod has so successfully used since the first solo album and long before 'Unplugged' was ever dreamed of. It could easily be from that golden 'Every Picture' era. However, Rod's self-penned winner for me is his tribute to Muddy Waters, Sam Cooke and Otis Redding on 'Muddy, Sam and Otis' (4.43). This song is a cracker, autobiographical lyrics tell the story of young Rod hearing early songs by the magical trio and how they have had such a strong influence on his own career. Rod has never been one to shy away from acknowledging his heroes and this song obviously means a lot to him. It really is where Rod the songwriter is at his best. Storyteller indeed, wherever there is a specific story to tell. Just listen back over 'Maggie May', 'Young Turks', 'I Was Only Joking' ... they tell stories, contain lots of lyrics and pleasant melodies. For me these always work better than hard rockers. 'Muddy, Sam and Otis' is a fine melodic sound in the style of those soul heroes with backing singers and strings to add to the sound. The emphasis of the song is on the lyrical content, it is the story that is important to follow.
From the tribute we go to the real thing with 'Soothe Me' (3.34), another old Sam Cooke number. Considering how influential the likes of Muddy, Sam and Otis have been, Rod has recorded comparatively few of their songs. 'Soothe Me' comes across very much in the feel of sixties soul, the melodic style perfect for Rod's vocals to come across as strong as you would expect from such a song. A steady drum and bass beat, the good old Hammond in the background, a brass section, controlled guitar breaks. It's about time we had an update for 'Twistin The Night Away'.
There is just one out and out rocker on the album. 'Delicious' (4.41) is in the mood of those on 'Out of Order' with the same style of hard guitar sound courtesy of Andy Taylor. 'Delicious' begins with a slow acoustic intro before the electric guitar riffs pump through a tune not dissimilar to countless Rod rockers before. I have to confess that I find this type of track rather ordinary in comparison to the rest of the tracks on the album. After many listenings I am still not convinced that 'Delicious' ranks alongside Rod's best rockers, but then I'm really a 'Sweet Little Rock 'n' Roller' style man myself. Another track in the same style called 'Shock To The System' (4.35) is featured as an exclusive track on the 'You're A Star' single. It's in the vein of 'Hot Legs' in lyrical content and sound and in the Stones' school of 'Tumbling Dice' and will sound great on stage this summer. Another one to turn up loud for best effect. Apparently there were over 40 tracks recorded for this album so WEA have no excuses when it comes to bonus tracks for the singles!
Rod always used to say he was folkie at heart and early recordings like 'Man of Constant Sorrow', 'Dirty Old Town' and 'Only a Hobo' go along with that view. On this set we have what I think is another real gem. It's a traditional Scottish song which was featured on John Baldry's 1972 album 'Everything Stops for Tea', under the name of 'Wild Mountain Thyme' (that album incidentally, was half produced by Rod, and Rod is Baldry's protege - perhaps this song is an honour to Long John?) This version is called 'Purple Heather' (4.59). It opens with the Glasgow Gaelic Musical Association Choir before a simple acoustic backing leads Rod into his vocals. The song builds with much passion and scarf waving emotion in the true Stewart tradition. You can imagine the masses in the arenas singing the chorus line: ""And we'll all go together to pick wild mountain thyme ..."" Marvellous stuff! A beautiful song, perfect for Rod's gravelly tones, a song which pulls out all of Rod's best qualities and I love it. On this evidence, let Rod arrange some more traditional songs.
So at the end of it all, has Rod produced a goodie? Quite simply, yes! The album holds together better than 'Vagabond Heart' which seemed like a compilation set by the time it was released and all the singles taken into consideration. I see it well worthy of celebrating Rod's 50th birthday year. It contains some great songs, has a number of different musical styles and the old vocal chords are really as strong as ever. The man's amazing talent at selecting those great songs is still there. There's a lot of life in this old dog yet.
I could go on forever comparing how this fits in with previous works. I tend not to be too interested in comparing too much. What you have to look at is the album put before you in 1995 and that it is four years from the last one. It is a whole new era, time has moved on. I look at it in terms of what I said at the start ... does it reflect Rod's vocal talents, does it reflect his songwriting talents and does it reflect his ability to deliver a decent cover? As far as I'm concerned it scores on all three counts. I could listen to the Dylan song, the Tom Waits cover and 'Purple Heather' forever. The album would be worth it for those three tracks alone.
The total running time of the 12 tracks on the album is over 56 minutes representing great value for money. The title reflects the Stewart-type quip which has characterised many albums before in the best tradition of his humour. Production is by Bernard Edwards, Rod and Trevor Horn. There have been criticisms from some quarters at Trevor Horn's over-production and endless use of strings. His influence is here throughout, but I have always found the Horn/Stewart partnership an inspirational team and Trevor Horn has pulled out from Rod some classic songs over the last few years. The proof of the pudding is in the music though and the first few bars of a track like 'Sweetheart' will have you convinced, I am sure, that the new set is one of the best he has ever presented us with.
All in all, essential Stewart listening and an album which will not disappoint anyone. Enjoy it - I certainly did.


Al Mitchell