MORE NEWS:
FEATURE:
From My Heart & Soul
Nashville.. A personal Review by SMILER member Vicky Marrow
posted by Mike Walton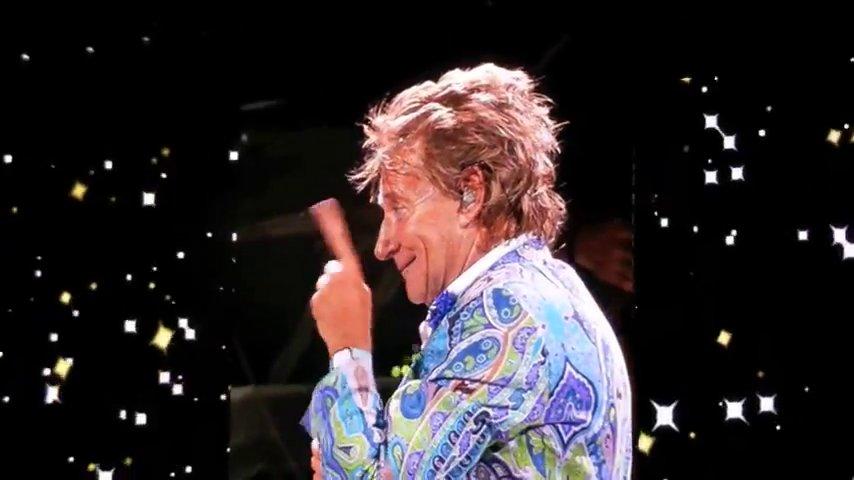 It was a cold evening [February 28, 2012] in Knoxville, Tennessee. I was on my computer and 2 emails messages pop on my screen, 30 seconds apart, and from 2 different friends. The emails were forwarded from the Bridgestone Arena in Nashville, TN announcing a presale opportunity for a Rod Stewart and Stevie Nicks concert on July 24, 2012. Do my friends know me or what!!!???!!!

It has been 11 years since I have seen Rod in concert. It has been a busy time for me between work commitments and serious family health issues (including me getting bitten by a raccoon and having rabies shots. Knowing this might help you understand the rest of this story). While I still bought all the CDs and kept up with the news of Rod and his family, I had limited time and energy to spare.
So the news of the concert only 2.5 hours away from home, during a time when I thought I could go to show was very exciting. I was ecstatic to get 7th row floor seats. I have sat way far away, front and center and all places in between. [I have seen Rod now 13 times.] Row 7 after an 11 year hiatus was very, very acceptable.

Fast forward to the beginning of July 2012. Anticipation and excitement builds, and I always like to take Rod something when I am close to the stage, so I began thinking what to do; I always want to be creative. That is when I decided to knit him the hat (toboggan, ski cap, stocking cap, bob hat… what you call it depends on where you live) in the Celtic Football Team colors. (I knit these hats for a local homeless shelter, and with a hand full of friends we have donated over 700 hats, and custom make them for a cash donation to the shelter; I will be making a donation in Rod's honor). I always take a toy soccer ball too, just for fun.

Now what to wear, I was told to show some leg in in addition to my Celtic Jersey in order to get Rod's attention, HA! Kinda hard to do when you're 5'4", and 51 years old, but Oh what the heck. So I wore my jersey and some shorts. The jersey is long, so it appeared as if that was all I was wearing. Apparently I was entertainment myself to other fans in the crowd as I got a number of "you got it goin'" comments and double takes too. It was a nice crowd, nothing snide was said………. to my face anyway.

I was really hoping to trade the hat for an autograph on a picture taken of Rod in 2001. Rita told me to send it to her (she would try to get it to Rod to sign), but life, commitments, work, etc. kept me busy and I never got it mailed. Then we lost Rita. The way the stage was set up with a barricade in front, kept the front row another 5 feet from the stage, so right away I knew there would be no chance to get Rod to sign the picture, but I was still determined to get him the hat.

Evan Schlansky's review was spot on so I won't regurgitate my similar comments, but I will highlight some other parts of the show and then tell you how I got the hat onto the stage.

Rod appeared to be in good spirits; he was playful, had good interaction with the band, singers, and the audience. I would venture to say that the show was very close to a sellout. The dynamics of the crowd (this one anyway) has changed in my 11 year absence, it is an aging group, with very few younger fans. Rod still has tons of energy and the "fashion sense" right down to the bright yellow socks!
The dueling drum set by Dave and Matt was out of this world. Taking drum lessons is still on my bucket list so this got me thinking about moving that closer to the top of my list,Jimmy Roberts….good to see him and Lookin' Good!

Rod, as he has at other shows, told us to sit down and try out those expensive seats we paid for. I enjoyed the acoustical set and heartily agree with Evan "if his voice is less raspy then it once was, he remains forever feisty". That man cannot sit still !!!
J'Anna gets prettier and better each time I see her. I was at the Nashville show in 1999, the first time she played with Rod and the band, and she was great then, but "WOW" she sure has grown into an accomplished musician and entertainer.

Rod did see the hat during the show because I or my husband waved it and a sign when the house lights were up and we got a grin and a nod…..or was it a nod and a wink....?
I decided to get the hat to Rod during "You're in my Heart"; I gave the camera to my husband and said here I go!!! I worked my way slowly down our row while the group performed "Proud Mary", knowing that "You're in my Heart" would be next. Oh, oh, I got to the end of the row and into the aisle before Rod came back on. Not wanting to call any additional attention to myself, I calmly trotted up the arena steps to about row 10 where there was a fellow out in the aisle dancing away. The first 2 seats in that row were empty so I asked him if I could stand there. He responded in a very slurred voice "Sure, my wife has gone to the bathroom, but you can stay only if you dance with me." At this point, I thought "what the hell"…….. Then the wife came back…….man, if looks could kill………..I then quickly trotted down the steps as Rod has come back out and started singing. My husband told me later he saw all this, but when I came back down he could not see me at all. He only knew I was there when he saw the hat flying thru the air.

Understandably so, while standing at the corner of the front of the stage, I came close to getting in trouble with the crowd control personnel, because Rod was still working his way down to that side of the stage...... I knew their patience with me was wearing thin so I had to go ahead and pitch the hat onto the stage with the toy soccer ball tucked inside. A girl standing up front also in a Celtic jersey protected me for the few seconds I needed. Then, the really HUGE crowd control guy came back for the 4th time and said "Get back to your seat NOW!!!!, He seemed to get bigger every time he came up to me. So Rod never saw me up close with the hat. During Hot Legs as I waved my sign, Rod did pitch me a ball, but it was a bit high and I am sooooo short…………… hubby did get one hand on it, but it was too high, he couldn't bring it down and land it with the other hand.

Near the end of the show, Rod thanked us for choosing them to spend our money on this year when things are tight.
I was hoping for just 2 Standards in the set list. All these songs mean a great deal to me; I know what some of you are thinking, but hear me out. Having had an "older" dad, these songs were what I also heard growing up. My daddy died when I was 19 (I am now 51). To hear my favorite singer, Rod, sing them brings back memories that I have of those 19 short years. Having missed the tours over the past 11 years, I have never seen any of these songs performed in person.

We were treated to Auld Lang Syne over the PA after the show (I know there are mixed emotions out there on this upcoming Christmas CD, but I cannot wait). Circling back to my comments above regarding the Standards, the Christmas Album will kinda complete the nostalgic journey for me………..

On Thursday evening, imagine my surprise and thrill to find the entire video on YouTube of "You're in my Heart" http://www.youtube.com/watch?v=mgUQcGiJbfM showing the hat sailing onto the stage and later in the song, Rod picking it up.
I must end here now by apologizing to the crowd control workers for persistently disobeying them and not going back to my seat, to Rod's backup singers, because I probably startled them a tad, and to anyone else that I might have alarmed by launching the hat. I feel certain that I would have been able to toss it to Rod, had he already been at that end of the stage. As they say "timing is everything". I want to thank the girl on the front row [also in her Celtic jersey] who pulled me into the row so that I had a chance to launch the hat onto the stage, the person who posted the YouTube video, and I want to thank my husband for getting the picture of Rod's bum as he bent over to pick up the hat and for just putting up with my antics for many years, "Have I told you lately that I love you?" Had me a real good time.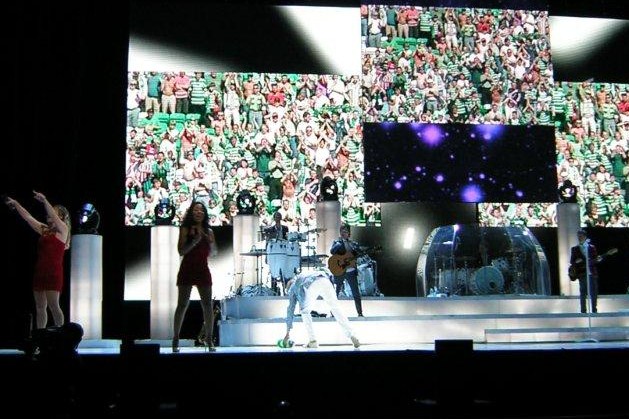 ---