MORE NEWS:
FEATURE:
Rod Stewart And Stevie Nicks Turn Back The Clock In Nashville
Review By Evan Schlansky
posted by Mike Walton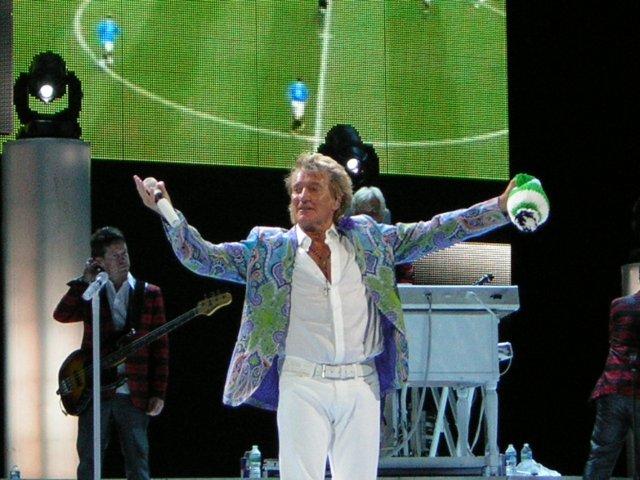 Stevie Nicks and Rod Stewart did not duet during their double bill last night, as they've done frequently on their joint Heart and Soul tour. Nick's voice was bothering her, she said, which was probably the reason why (unless they're sick of each other by now).

Still, they made the perfect pair; Nicks' classic rock radio-ready sound and hippie ethos combined perfectly with Stewart's cavalcade of hits, for a night of sheer sing-along goodness and rock and roll bliss.

"We're going to play everything you want to hear and more, so let's get to it" said an affable Rod Stewart, taking the stage with a cover of The O'Jay's "Love Train."

Watching Stewart perform is a bit like being stuck in a time warp. For one, his attention to roots rock detail (hammond organ, acoustic guitar, mandolin and fiddle) is spot on, while his band's silver-suited attire is more "mod". Then there's all those 80′s and early 90′s hits to contend with — "Downtown Train," "Young Turks," "Forever Young."

And then there's Stewart himself — still concerned with his hair ("sometimes you can't do anything with it, girls" he joked to his back-up singers) and still wiggling his hips and gliding across the stage like a man half his age. At 67, he has a bit of the "old grandad" air to him; at one point, he stopped the show to show off pictures of his children and grand kids, which set up "Forever Young." But if his voice is less raspy then it once was, he remains forever feisty. "Aren't those skirts a little short?" he asked the local string players, all young and female, before concluding, "never mind — it does an old man's heart good."

True to his roots, the set list overflowed with covers, from Tom Waits' "Downtown Train" to Cat Stevens'"The First Cut Is The Deepest." There was a tribute to Ronnie Lane in the Faces' "Ooh La La," and nods to Chuck Berry ("Sweet Little Rock and Roller"), Danny Whitten ("I Don't Wanna Talk About It," which Stewart helped popularize), Van Morrison ("Have I Told You Lately") and Creedence Clearwater Revival (a Stewart-less "Proud Mary", performed with great gusto by the band.)

But for nostalgic purposes, "Maggie May" trumped them all, and made a "first-class fool" out of everyone who sang along (which was every one).

The morning sun when it's in his face may show his age, but ultimately, Rod Stewart remains as ageless as Rock and Roll itself.

Reproduced with thanks to Evan Schlansky
To read Evan's full review go to http://www.americansongwriter.com/2012/07/rod-stewart-and-stevie-nicks-turn-back-the-clock-in-nashville/

Photo and knitted Celtic hat by SMILER member Vicky Marrow..full story to follow!!
---